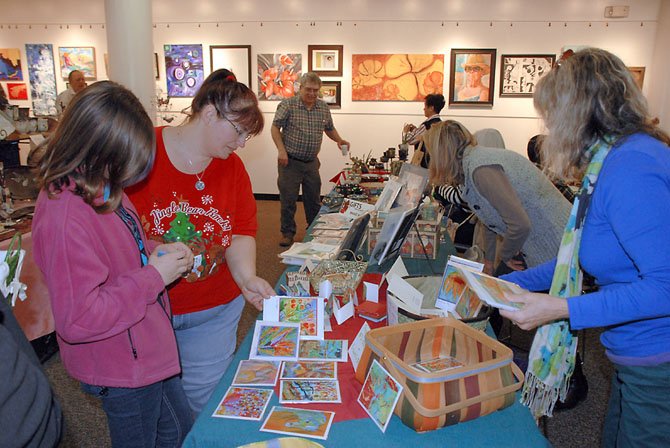 The Reston Community Center at Lake Anne hosted Gifts from the HeART on Saturday, Dec. 8. Gifts from the HeART featured works from 20 local artists as well as more than 85 pieces of artwork on the walls of the Jo Ann Rose Gallery and pieces in the 3-D case displays. To participate, artists paid an entry fee and also were requested to donate 10 percent of sales to Reston Interfaith.
"This is all about, yes, supporting the artist, but also about supporting the community," said Cheri Danaher, arts education director at RCC. At the start of Saturday's event, $700 had been collected for Reston Interfaith, with an additional $300 anticipated to be collected by the end of the event.
Photo Gallery
Gifts from the HeART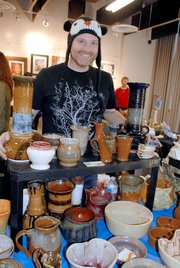 Click Photo for Flash
In addition to having space for display, RCC offers classes and workshop studios where many of the artists teach classes or refine their skills. "Reston Community Center has great resources in terms of the instructors who offer classes and monitor the open studio times," said Gloria Morrow, exhibit coordinator at RCC. Many of the instructors and their students were showing their own work which they had created at RCC.
Shawn Storer was one of the ceramics class students who was showing his work. Storer's earth-toned pottery bowls were not the standard circular bowl, each had a unique look to them. "I like to make visually striking pottery that is practical, useful, but also artistic. I don't like to just make cookie-cutter bowls. I like to make something that is a little unique. I call it Mystero's Pottery because I'm a conductor in one of my other lives. I also do a lot of custom work. All of this was made here at RCC. I took some classes here; I use the studios here. Keep it local."
At a nearby table, Milagros Pongo of Reston had some help from her son, Raoul, and daughter, Athenas, and a friend, Ximena Abril. Pongo was offering colorful oil paintings as well as jewelry and felted hair ornaments. "I love Reston," she said. "I love being able to participate in this event and in the Saturday craft shows."
Ilonka Sabic-Lukic, of Reston, who was perusing the tables, said she likes the local aspect of the show. "I just love Reston Community Center. I take classes here whenever I can. I've gotten to know a lot of artists and their work. I like supporting them and the Community Center, and it's especially nice knowing it stays local."
The event has grown since it started in 1999. At that time it was only a Sunday reception with just a handful of artists showing their work, said Danaher. Since then the organizers have coupled the event with Lake Anne's Plaza's "Jingle on the Plaza" holiday celebration. "If we had a bigger space, we could have a bigger show, but we like keeping it here at Lake Anne," said Danaher.
The art pieces will remain on the walls and in the 3-D cases until January. All items are available for sale with a portion of those proceeds going to Reston Interfaith as well.