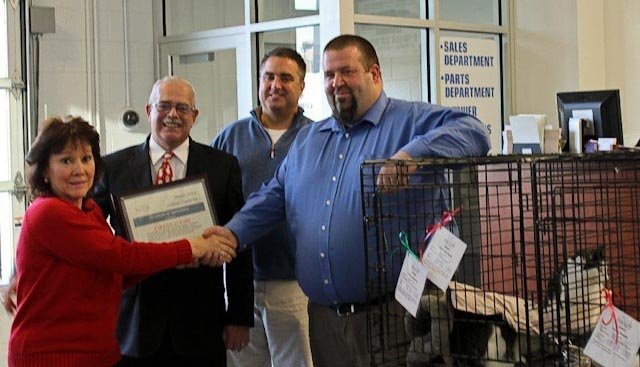 The Humane Society of Fairfax County (HSFC) kicked off its "Home for the Holidays" campaign on Saturday, Dec. 8 at the Farrish Subaru Dealership in Fairfax County.
Interested adopters were able to meet over 30 of the Humane Society's cats. According to Gina Lynch of the Humane Society of Fairfax County "unique events such as this adoption fair call attention to the many companion animals who are waiting for loving homes for the holidays."
U.S. Rep. Gerry Connelly (D-11) and Fairfax City's Mayor Scott Silverthorne made the adoption fair even more special by stopping by to thank the Humane Society's volunteers for their dedicated efforts in helping many abandoned, abused and homeless animals find forever homes. Congressman Connelly and Mayor Silverthorne presented a plaque to Farrish Subaru for hosting the event and for community support.
The Humane Society of Fairfax County still has many cats, dogs, and rabbits available for adoption at 4057 Chain Bridge Road, in Fairfax. Call 703-385-PETS to schedule an appointment or go to www.hsfc.org to view the many cats, dogs and rabbits.