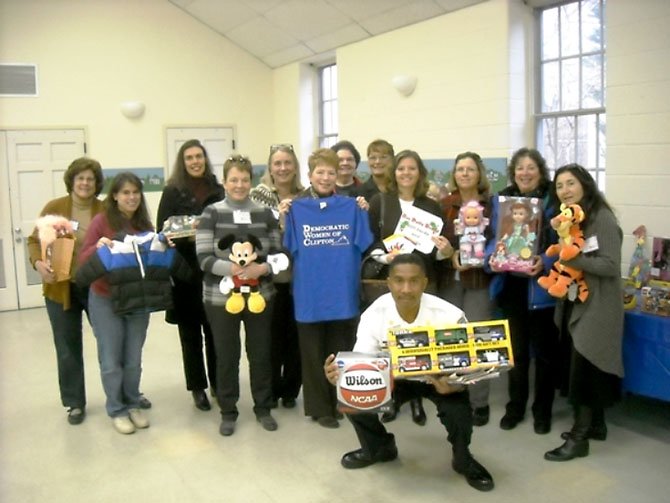 Every child needs a little Christmas, but some Fairfax County parents don't have the means to provide it.
Thanks to the efforts of the Democratic Women of Clifton (DWC), thousands of children throughout the county will receive new coats, toys and other gifts this holiday season.
For the second year, the Democratic Women of Clifton coordinated with Fairfax County Fire and Rescue Department (FCFRD) to collect toys for 3,000 needy children throughout Northern Virginia.
"These donated gifts will be the only ones many of the children receive for Christmas," said Jane Barker, president of the Democratic Women of Clifton. "The toy drive is the highlight of the holiday season for both the first responders and the young gift recipients."
In addition to toys, the Fairfax County Fire and Rescue Department accepted monetary donations to purchase coats for area children. Last year, the department distributed nearly 3,000 new coats to more than 50 schools, shelters and nonprofits throughout Fairfax and Alexandria. Firefighters said "giving these kids a new coat builds such great self-esteem," and that it helps them do better in school.
The Fairfax County Fire and Rescue Department will distribute toys and coats on Dec. 18.
The Democratic Women of Clifton also sponsored a collection of grocery store gift cards to benefit Our Daily Bread, a local nonprofit organization that provides food and assistance to Northern Virginia families experiencing financial hardship. Gift card donations will be distributed to the families in January.
"Although the DWC is not a service organization, we often feel like one," said Debbie Nagy, the group's secretary and director of this year's holiday projects. "Democratic women not only talk the talk of caring for the less fortunate among us, but we also walk the walk by supporting nonprofit organizations that serve many needs throughout Northern Virginia."
"We want to make this a memorable holiday season for those right here in Fairfax County who need our help," Barker said.
It's not too late to contribute, Barker said. The DWC will collect grocery food gift cards for Our Daily Bread through Dec. 31. To contribute, mail gift cards to DWC, P.O. Box 143, Clifton 20124. To contact the DWC, email cliftonwomendems@aol.com or go to the website at democraticwomenofclifton.org.