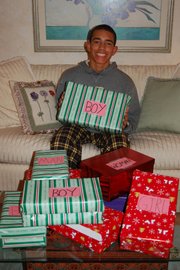 In this season of giving, even the generous heart of just one person can make a big difference in other people's lives. Westfield High junior Nick O'Connell knows this firsthand because he's now in his fifth year of doing just that.
Since he was in middle school, this Oak Hill resident has organized an annual drive in the Emerald Chase and Bradley Farms neighborhoods near his home. He collects the donations, sorts them into gifts for men, women, girls and boys, packs them into shoeboxes, wraps them and delivers them to So Others Might Eat [SOME] in Washington, D.C.
"In seventh grade, I wanted to earn community-service hours to be part of my school's [Rachel Carson] National Junior Honor Society program," said O'Connell. "My mom told me her office was getting a box together to donate to this organization, which serves the poor and homeless, so I thought I'd like to help, too."
In the fall, he and some of his friends distribute flyers to every mailbox in the two communities asking for donations of hats, scarves, socks, shampoo, soap, shaving sets, lotion and other necessities. O'Connell then places a huge, watertight bin marked SOME on the front steps of his house and, from late November through mid-December, neighbors drop off their contributions.
Last year, he delivered 15 wrapped shoeboxes with not only those essentials, but also with some toys for the children. He's compiled 24 so far, this year, and donations are still coming in. Since beginning this drive in 2008 — and counting this year — he will have delivered more than 100 shoeboxes to SOME on behalf of the Emerald Chase and Bradley Farms communities.
"It was a rewarding feeling to know I helped people stay clothed and keep warm," said O'Connell, 16. "I also included toiletries and other things we take for granted, and it felt great. It didn't take a lot of time, so I kept doing it and plan to continue."
He received a letter of thanks and recognition following last year's efforts. It was from Father John Adams, the president of SOME, and O'Connell was delighted.
"This is a great way to help others and to engage your neighborhood in the spirit of giving around the holidays," wrote Adams. "It takes planning, organization and time to do what you continue to do for the poor — and I want you to know how appreciated it is, not just by me, but especially by the most vulnerable people in our city."
Noting that the gifts were "beautifully wrapped," Adams said they contained "all the important essentials which the people we serve need and appreciate most — beautiful hats, scarves, gloves, soap, razors, shampoo, deodorant and other gifts and toiletries. You and your friends have made people very happy, Nick, [and are] helping [them] get through the winter."
Adams also included a story about O'Connell's efforts, plus a photo of him, on SOME's Web site, on the "volunteer opportunities for youth" page. Adams said it would serve as "an inspiration to others who would like to find a way to bring hope and support to people in need."
In closing his letter, Adams wrote, "Thank you so much for caring about the homeless families who come to SOME. You are letting folks in need know that someone cares about them. That might be the best gift of all."
Both surprised and gratified by the letter, O'Connell said, "I wasn't expecting it, but I was humbled by it. This letter was also a huge validation of what I had done. I then fully understood how much it had touched people and really helped them. And it's all the more reason for me to continue doing it, now that I know it really is making a difference."
He also encourages other teens to start these collections for SOME in their own communities because he knows even children as young as 12 can have a big impact on the lives of those less fortunate. He'd be happy to tell them how to turn in their filled shoeboxes at SOME Headquarters. O'Connell may be reached at 703-371-8665, or go to http://www.some.org/volunteer_children.html.