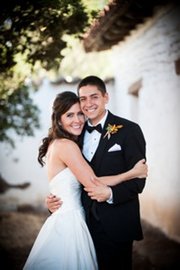 Kara Anne Bigelman and Matthew Colin Eganhouse were married Aug. 25 in San Diego, Calif.
Kara is the daughter of Paul and Kathleen Bigelman of Clifton. Matthew is the son of Bob Eganhouse and Trina Billingsley of Herndon.
The wedding weekend began with a welcome party on Thursday evening in Ocean Beach, hosted by the bride's parents. Then on Friday guests enjoyed a day at the San Diego Zoo where Kara is employed as a graphic designer. The rehearsal dinner followed at the Zoo's Treetops Restaurant, hosted by the groom's parents.
The wedding ceremony took place Saturday afternoon at Sacred Heart Church in Ocean Beach. Guests were taken by trolley to the reception at the Bayview Club where they enjoyed dinner and dancing until late in the evening. The bride's parents hosted a brunch on Sunday morning at the Marriott before family members and guests departed for the East Coast.
Kara and Matt enjoyed a honeymoon in Fiji after which they returned home to San Diego. Both Kara and Matt are 2005 graduates of James Madison University.