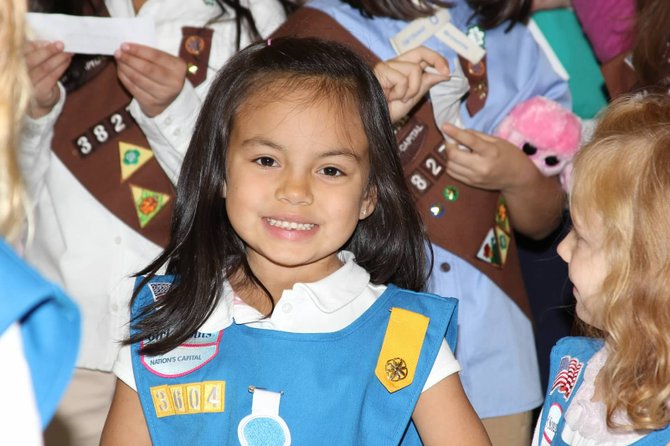 The Willow Springs Elementary School Girl Scouts held an investiture/rededication ceremony on Friday, Dec. 7, 2012 at 7 p.m. in the school's cafeteria. Investiture welcomes new members into the Girl Scout family for the first time.
Rededication is a renewal of their commitment to the Girl Scout Promise and Law for those girls who have already been invested. Girl scouts get a sense of traditions and sisterhood, providing something for the younger scouts to look forward to.
Girl Scout Troop Coordinator Kim Klain moderated the ceremony.
After all the Girl Scouts lined the stage steps, the Junior Girl Scout Troop 4405 began with the flag ceremony. Family and friends who attended the event listened as the girls recited the Girl Scout Promise, the Girl Scout Law and sang "Make New Friends". Daisy Girl Scouts received their pin and were awarded with earned petals. Rededication patches were awarded to those girls already invested in Girl Scouts.
Girl Scout Council of the Nation's Capital is a leadership development organization for girls, with over 90,000 girl and adult members. With the support of dedicated adult volunteers and parents, the generosity of corporations and foundations, and our popular Girl Scout Cookie program, Girl Scouting helps build girls of courage, confidence and character, who make the world a better place. Girl Scouts of the Nation's Capital serves the Greater Washington Region, which includes the District of Columbia, eight counties in Maryland, ten counties in Virginia and seven counties in West Virginia. Girl Scouts was founded in 1912. For more information on how to join, volunteer, or donate to Girl Scouts, visit www.gscnc.org.