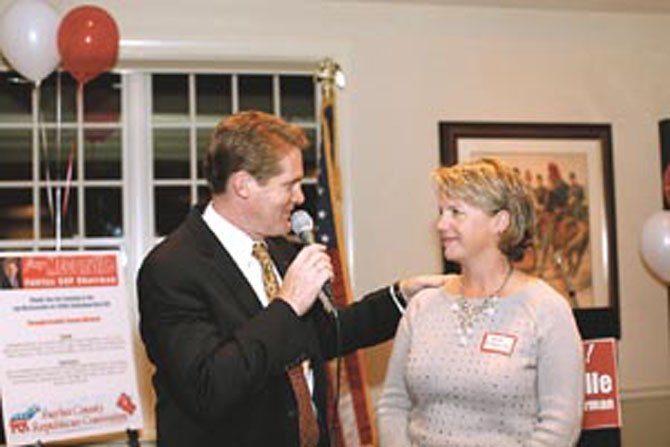 Jay McConville kicked off his campaign to be the next Fairfax County Republican Committee chairman last month at the Army Navy Country Club in Fairfax. Approximately 75 attendees, including event host Del. Barbara Comstock, listened as McConville laid out his vision for Republican success in Fairfax County.
The Fairfax County Republican Committee will select a new chairman to replace Anthony Bedell, who is stepping down after two terms, at a convention to be held on March 24 at West Springfield High School. Convention delegates must pre-register and be in attendance at the convention to support their candidate. Convention information is available at www.gojay.org and www.fairfaxgop.com.
McConville is a combat veteran, businessman, and community leader who ran for the Virginia House of Delegates in the 44th District (Mount Vernon) in 2009. Since then he has served as the FCRC's vice chairman for budget and finance. He is a former manufacturing CEO who serves on the Mt. Vernon-Lee Chamber of Commerce Board of Directors, is the former president of the Ft. Hunt Youth Athletic Association, is current president of his industry association's D.C. Chapter, and is an active member of the Mt. Vernon community. He is also an Ironman Triathlete, having completed the Coeur d' Alene Ironman in 2008, and a musician, playing in the local band Close2Home, and formerly with Tony Snow's band Beats Workin'.
McConville has been married to Sue McConville for 26 years and they have three children, Katelyn, 15; Colin, 19, and James Robert, 21.