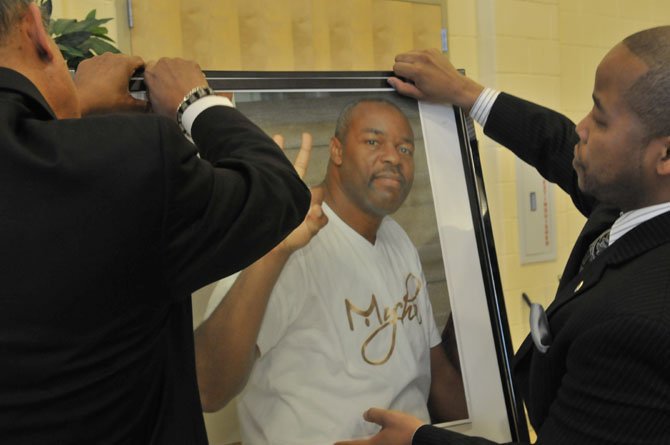 Even as hundreds gathered at the Charles Houston Recreation Center to remember slain civic activist Lenny Harris, the Prince George's Police Department was executing a warrant for the arrest of the third and final suspect to be charged with first-degree murder. It was an uneasy ending for a popular man, one who continually challenged the power structure of the city to do more for the poor and underprivileged. Looming over the event was the fact that Harris was last seen at the recreation center, arguing into a cell phone before he wandered off into the September night never to be seen again.
"He was like the unofficially elected mayor of Alexandria," said Howard Woodson, former president of the Alexandria branch of the NAACP. "He would walk the streets and everyone knew him."
Like many leaders in Alexandria, Woodson said that Harris could be a passionate advocate — sometimes opposing organizations such as the NAACP. Woodson recalls one particular meeting where Harris criticized the civil rights organization for not being more forceful on an issue. As was often the case, Harris struck out on his own and built a critical mass of supporters that forced change. It was a style that was familiar to many, including leaders of the Alexandria Housing and Redevelopment Authority, which Harris criticized for keeping too many people on a list of individuals permanently banned from public housing properties.
"We had a very civil relationship," said Roy Priest, director of the authority. "He knew that I would take his issues and present them to the board when I could."
HARRIS HAD BEEN missing since September, and the missing person case vexed authorities. Then Prince George's County police received an anonymous tip leading them to a 25-foot well in a remote part of Fort Washington. There, fire and police officials found the body of Lenny Harris. Police say he had been shot before being dumped in the well. It was a gruesome end for one of Alexandria's most celebrated civic activists.
"Many of the details are still under investigation," said Corporal Evan Baxter, a public-information officer with the Prince George s County Police Department. "What I can say is they have determined that the primary motivation for the suspects was robbery."
Within hours of the anonymous phone call, police picked up the first suspect in the case — Linwood Johnson, 49, of Oxon Hill, Md., who police say confessed to the crime. The next day, Prince George's County police announced the arrest of a second man, Tyrone Lewis, 26, Temple Hills, Md. By Monday, police were ready to charge the third and final suspect, Ivan Newman, 20, of Waldorf, Md., who was already in a Fairfax County jail on unrelated charges.
"Police in Prince George's County are talking about the probability that this looks like a robbery," cautioned Alexandria Police Chief Earl Cook. "But when you start getting more information, that might change."
LENWOOD "LENNY" HARRIS, 53, was a lifelong Alexandria resident who was well known in the city, where he devoted his life to organizing members of the African-American community and public-housing residents. He was best known for founding a nonprofit known as Operation H.O.P.E., although he's also been part of many other charitable organizations and causes. He also owned a pest-control service known as U Can Trust Pest and Termite Service as well as a line of clothing named after his daughter. Several years ago, he founded the One Love Festival. Last summer, he organized public-housing residents who were upset about concerns raised by residents in north Old Town.
"Lenny was the voice for the disenfranchised," said School Board member Blanche Maness. "If he leaves any legacy, I would hope it would be that one voice can become hundreds of voices."
Harris was the son of Sherman and Eleanor Harris of Alexandria. Born on Sept. 7, 1958, he grew up in Alexandria and graduated from T.C. Williams High School in 1976. He also attended Northern Virginia Community College, studying criminal justice. On Sept. 5, 1992, he married Deborah Moss. The couple has a daughter, Myia Charde, who was born in 1991. Harris also helped raise a step-son, Rinaldo Barber.
"If Lenny has a legacy, it will be that people took up his issues and carried out his work," said John Liss, former director of Tenants and Workers United. "Otherwise, he'll just be a name on a headstone or a plaque."
HARRIS WORKED at various jobs before becoming an entrepreneur, opening a clothing store known as "Pieces by Lenny." Then he opened the pest-control and termite service. Although he acknowledged having a troubled youth, Harris joined Greater Mount Cavalry Hold Church on June 15, 1997 and turned his life around. Over the years, he tutored and mentored countless children. He eventually won an award from the NAACP and launched an unsuccessful campaign for the Alexandria City Council in 2007.
He was preceded in death by his parents, Sherman and Eleanor Harris; an uncle, Eddie Harris; two aunts, Marie Reeves and Evelyn Herford; one nephew, Taurus Harris; one niece, Sarah Harris; and one step-son, Rinaldo "Ray Ray" Barbour. He is survived by his wife, Deborah Harris; a daughter, Myia Charde Harris; two brothers, Sherman and Harold Harris; three sisters, Sandra Walton, Leada Barksdale; three nephews and seven nieces.