Director of Public Works Dennis Johnson announced the selection of Michael Gallagher as the Town's Deputy Director of Public Works on Feb. 8.
Gallagher, 36, has over 12 years of experience in the engineering field and has worked for the Town of Vienna as a Civil Engineer II since July 2010. Prior to his employment with the Town, he worked for Urban, LTD as an Associate Engineer and with Richmond American Homes as a Land Developer Field Manager. Gallagher holds a degree in Civil Engineering from Virginia Polytechnic Institute and is a Licensed Professional Engineer.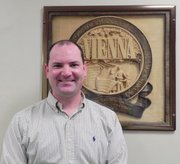 As Deputy Director, Gallagher will focus on water quality regulatory requirements, as well as track regional issues and progress in the public works field. This new position will work with the Director of Public Works to provide leadership to the Town's largest department, as well as identify and proactively address issues that may impact department and Town operations.
Gallagher was selected from among 60 applicants.
Gallagher assumed his duties as Deputy Director of Public Works effective Feb. 8.