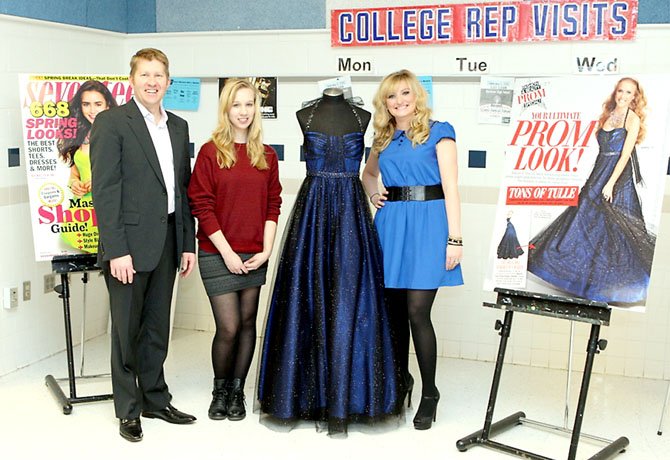 For 17-year-old Samantha Bryant, Feb. 3 should have been like any other school day. It was noon, when she normally left W.T. Woodson High School and drove to Fairfax Academy where she studies fashion design.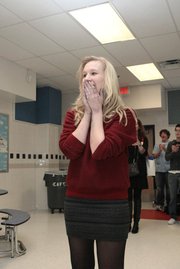 However, her day took an unexpected turn. Last fall, Samantha had submitted an illustration of her dream prom dress in the "Sketch Your Prom Dress Contest," co-sponsored by David's Bridal and Seventeen Magazine. As she entered the school cafeteria, told she was needed there for a meeting related to the senior party, she was floored to see a crowd waiting for her, including her parents, Principal Jeff Yost, classmates, and local camera crews.

David's Bridal Executive Vice President Brian Beitler and Production Development Associate Lis Rockey also eagerly anticipated her arrival, as they stood next to a dress form and an easel, both veiled in white fabric. They announced that Samantha was not only one of three finalists but had won the grand prize. Her sketch, realized in an actual dress, was revealed beneath the white cloth, as well as a blow-up of her creation in a Seventeen Magazine fashion spread.
Samantha was shaking. "I couldn't really think of anything else except 'Oh, my gosh, this is really happening.' It really did feel like a dream come true."
As her mother and father looked on, Samantha examined the dress she had sketched several months ago, inspired by Vincent Van Gogh's painting "Starry Night."

"I was so happy with it. It was so pretty and exactly the color I was thinking of," she notes. "I've always gravitated towards blues and this was midnight blue. They captured it perfectly, the way it sparkled. It looked so good."
It was a magical moment for a girl described as quiet, humble, and respectful by her principal. Her father, who believed they were announcing that Samantha had made it into the finals, was so awestruck when he realized she'd won he forgot to take pictures with the camera he'd brought.

Beitler was thrilled to witness Samantha's reaction as well as that of her peers. "We had the chance to share Samantha's success in designing a gown that both Seventeen editors as well as David's Bridal designers and merchants thought was not only well-designed but would be successful in the marketplace," he comments. "To be able to do that in front of her classmates was a really unique experience."
OVER two thousand young women and men across the country submitted sketches to the contest in September and October. "It was a very difficult decision," Rockey recalls. "The David's Bridal team spent hours reviewing the thousands of entries."

Samantha's winning design features an A-line silhouette which is flattering for most body types, as well as elements such as sparkle tulle and beading embellishment. The tieback neckline can be worn tied at the neck or behind, offering versatility to the young woman who wears it.
Rockey, who serves as a liaison between the design team and merchandising team at David's Bridal, notes that Samantha's dress was both trend-conscious and appealing to a variety of wearers. "Part of my role as a judge was to determine which of the sketches submitted could really be executed by our David's Bridal design team," she comments.
Beitler agrees. "All of [Samantha's] elements were trend-right. Then you accompany that by a style we felt would be worn easily by a range of customers, regardless of their size."

In addition to a sketch of her perfect prom dress, Samantha and other contestants were required to submit a 100-word description of their vision and inspiration. Judged by a panel of fashion editors from Seventeen Magazine and design experts from David's Bridal, finalists' sketches were also posted on Facebook for teen fans to critique.
Samantha has been passionate about fashion illustration since she was 11 and was encouraged by her family to enter. Web Bryant, her dad and an artist for USA Today, remembers how exciting it was to see her sketch realized into a finished product in the school cafeteria. "It was amazing because it was so much of a finish from being there the night she did the illustration and helping her send it off and scanning it and filing out the paperwork," he observes, "To actually see it there made you pause."
Bryant recalls that Samantha showed artistic talent early on, particularly with watercolors, pencils, and graphite. She continues to enjoy trips to places like the National Museum with friends to track down beloved pieces of artwork.
"I definitely pull inspiration in almost everything I design. I find it so much easier when you have something visual to pull from than just pulling it out of thin air in your head," describes Samantha. She had always loved Van Gogh's "Starry Night" and felt it epitomizes the romance and fairytale quality of prom night.

Samantha's prom dress went on sale on David's Bridal's website on Feb. 7. It will be sold in stores, including the Springfield location, starting on Feb. 15. "It's just so cool to think that now real girls all over the world can see it and buy it," she expresses. "Maybe girls that don't even know me or don't even realize it was from a contest will fall in love with it anyway which is just so fascinating." The Seventeen Magazine fashion spread featuring her dress appears this month.
AS IF HAVING her dress developed, manufactured, and sold by David's Bridal weren't exciting enough, Samantha has also won a $25,000 scholarship, $5,000 for her school, and a trip to New York City to visit David's Bridal design studio.

Samantha can't wait to visit what many consider one of the fashion capitals of the world. "I really love networking and getting to know people in the industry and seeing how everything works. Any insight into that world is so exciting to me," she adds. She'll be accompanied by two other contestants from the top three. Her visit will include special surprises planned by the David's Bridal team.
"It's a very wonderful thing that's happened to a very wonderful young lady," Principal Jeff Yost summarizes. He plans to collaborate with Samantha to decide how to use the money she won for Woodson. He believes that programs like Fairfax Academy, where Samantha studies fashion design, expose young adults to possible career paths and prepare them for higher education.

Samantha is grateful for her Fashion 1 and Fashion 2 teachers, Barbara Galindo and Jin-A Chang, who helped her develop more commercial illustrations and prepared her for a career as a designer. She also hones her skills by taking advanced sewing classes in the evenings. She would love to major in fashion design at her top choice, the Fashion Institute of Technology in Manhattan.


SAMANTHA'S ADVICE to other budding fashion designers or anyone working towards their dream? "Just to simply work at it, every single day," she encourages. "When I first started illustrating I was awful, but if you truly love it and you are truly passionate about it, it will grow and you'll get better. I think it's really important to not give up."
Samantha looks forward to wearing her design at her prom this year. "I'm excited to try it on. Even if it doesn't look perfect on me, I'll wear it anyway." One of Yost's assistant principals has a daughter who wants to buy the dress as well.
Beitler anticipates similar contests in the future. "For us, it's much larger than just selling a dress. It's about helping her realize a vision that she has for herself, a picture she wants to manifest for that evening. That's why we did this contest."
To see Samantha's dress, go to www.davidsbridalprom.com. Her gown and her sketch appear first among the selection of prom dresses.