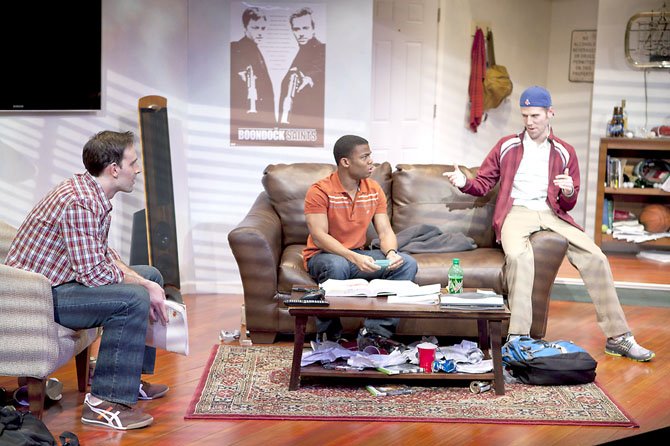 Did he or didn't he? It was the college party of the year and ambitious young co-ed Leigh finally gets her man, the All-American rugby captain Davis. But all is not what it seems as events unfold in the spellbinding production of "Really Really," now playing at Signature Theatre.
The debut play by 26-year-old playwright Paul Downs Colaizzo, "Really Really" follows a group of college seniors on the verge of graduation. In the aftermath of a hook up gone wrong, friendships unravel in the face of accusations of rape at an elite unnamed university.
Directed by Signature's Associate Artistic Director Matthew Gardiner, the contemporary drama showcases a brilliant young cast that includes Paul James, Kim Rosen, Bethany Anne Lind, Danny Gavigan, Lauren Culpepper, Evan Casey and Jake Odmark.
As the play opens, Leigh (Bethany Anne Lind) and her roommate Grace (Lauren Culpepper) are arriving home in a drunken stupor following a party at the apartment of Davis (Jake Odmark) and his fellow teammates. It becomes clear that Leigh, a have-not in a school of privileged students, has an agenda of her own following her ill-timed sexual encounter with Davis while her wealthy fiancé Jimmy (Danny Gavigan) is out of town.
Or was it ill-timed after all? The morning after finds Leigh, who has led Jimmy to believe she is pregnant with his child, accusing Davis of rape after Davis' roommate Cooper (Evan Casey) lets it slip to Jimmy what took place in his absence.
The he said/she said play, which coincidentally makes its debut as University of Virginia student George Huguely is being tried for the murder of Yeardley Love, divides the friends and roommates as each takes sides and struggles to protect themselves and their futures in the face of the scandal.
Complicating the situation is the fact that Davis can't actually remember his alleged encounter with Leigh, a point the accuser and her sister Haley (Kim Rosen) uses to their advantage.
Lind and Odmark are riveting in the lead roles of Leigh and Davis. As the story unfolds, the character of each becomes more complex and the truth about the night in question becomes clouded with doubt.
The scenic design by Misha Kachman consists of a stage cleverly split between the well-kept apartment of Leigh and Grace and the more traditional man-cave digs of the rugby roommates. Gardiner skillfully uses the lighting by Colin K. Bills to direct the attention of the audience to the unraveling details of the ill-fated night now under investigation.
With a recurring theme of "Generation Me," Colaizzo has crafted characters that epitomize today's pampered generation of students that will stop at nothing to avoid accountability for their actions.
Despite what to some may be a disturbing subject matter, "Really Really," is mesmerizing and thought-provoking with a brilliant ensemble cast. It will keep you guessing long after the final curtain call and is a production not to be missed.
"Really Really" is playing now through March 25 at Signature Theatre, 4200 Campbell Ave., Arlington. The production contains strong language and explicit situations and is for mature audiences only. For tickets or more information, call 703-820-9771 or visit www.signature-theatre.org.