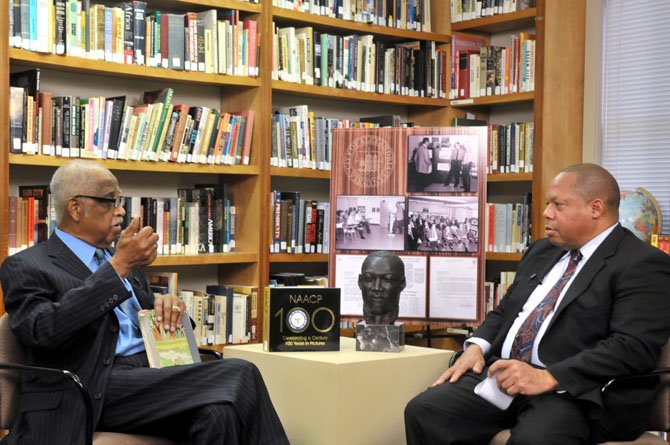 Alexandria — Slaves were happier than Northerners believed, and African Americans made no notable contributions to society. So says the 1957 school textbook, "Virginia: History, Government, Geography."
As antiquated and ignorant as the comments may seem, the textbook was in use throughout middle schools in Alexandria until the 1970s. Retired educator and community activist Carlton Funn keeps the textbook close to his heart, but the message far away.
"I want people to see this is what motivated me," said Funn. "This book lacks achievements made by African Americans."
Funn taught history at Lyles-Crouch for 15 years, during which time he developed his own curriculum and taught beyond the book. Included among his students was Alexandria's current mayor Bill Euille, a seventh grader at the time.
"Funn was bright, intelligent and inspirational, he was a breath of fresh air," said Euille. "He wrote his own curriculum because he wanted African American achievements to be made known."
Funn influenced the Lyles-Crouch community as a whole. Although he was never a student in Funn's history class, Alexandria's current police chief Earl Cook was inspired by Funn's diversion from the text.
"I felt his influence without a direct touch, the community effect was there," said Cook. "I became a history major. Trying to get history accurate is difficult, politics are taught in textbooks."
According to Louis Hicks, director of the Alexandria Black History Museum, the political ramifications of portraying slaves as being happy and content is a subtle way to justify human bondage.
"The textbook was typical of the climate we were taught in, our only contribution was a paragraph about slavery," said Hicks. "Depicting people as content and happy supports and justifies slavery."
Funn took his teachings beyond the classroom, and in 1970 he presented a series of cultural lectures to the Alexandria Police Department. As an important point of contact with the community at large, Funn believed cultural understanding could solve latent problems associated with police relations.
"Police relations with the community were pretty good, but there were problems," said Funn. "After the lectures I saw how the police applied the lessons, I saw men and women treating citizens differently."
As a significant aspect of police history, Funn recently presented a plaque commemorating the successful lecture series to Cook. A second plaque was given to Euille in recognition of his personal accomplishments as the first African American mayor of Alexandria.
Today Funn has formalized his lecture series into a traveling cultural exposition. To date he has presented the exhibit over 500 times in 12 states, and has included over 28 diverse cultures.