Archie Lee Liming, 92, formerly of Alexandria, Va., died peacefully at the home of his daughter in Lusby, Md. on Feb. 12, 2012. He was born on Nov. 14, 1919 in Joplin, Va. to Archie and Virgie Liming.
He was raised in the Joplin, VA area. At 17, he joined the Civilian Conservation Corps (CCCs) and helped build the Skyline Drive and several recreational camps for District of Columbia children. He later served honorably in the United States Army; then joined the U.S. Government as a civil servant. He worked at the original Torpedo Factory in Old Town Alexandria during WWII and later worked at Ft. Belvior, Va. for over 30 years until his retirement in 1975.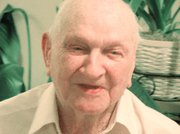 He was preceded in death by his wife of 38 years, Rita P. Liming. He is survived by his daughters, Deborah Whitten (Patrick) of Lusby, Md. and Penelope McKim (Bill) of New Smyrna Beach, Fla., three grandsons, Mark McKim, Matthew McKim and Aaron Whitten as well as one granddaughter, Margaret (Maggi) Whitten. He is also survived by one brother, Lindell Liming and one sister, Virginia Beahm. He also leaves his loving pup, Mia.
A memorial gathering will be held at 1 p.m., Thursday, Feb. 16, 2012 at Alexandria National Cemetery. In lieu of flowers, contributions may be made to Calvert Hospice, P.O. Box 838, Prince Frederick MD 20678.