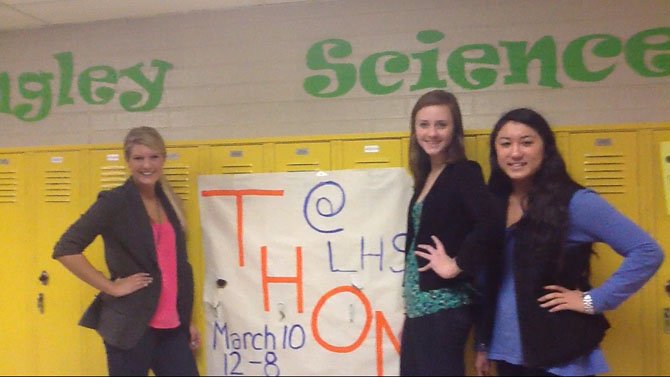 In many ways, Fairfax County School Board's newly elected student representative Lucy Gunter leads the life of a typical Langley High School Junior: she works hard to balance the demands of difficult course work, sports and activities both inside and outside of school. But Gunter possesses a couple of things that set her apart from her peers: the desire to gain a broader perspective on the lives of Fairfax County students, and the motivation to promote changes for the benefit of those students. She sees her one-year term on the School Board, which will begin on July 1, as a means to that end. "I've been very involved in my school for years," she says, "and I've gotten to know students at lots of other schools through sports and other things. I see this opportunity as a way to get involved on a wider basis, as a way to make an impact."


GUNTER is actively involved at Langley, in the school's leadership program and beyond. She has juggled her leadership offices - class president freshman year, Student Advisory Council rep this year - with field hockey and track and field, and is currently president of Langley's chapter of Best Buddies, a club that promotes one-on-one friendships with students with intellectual disabilities. Sophomore year she founded Otto's Army, a club with the mission of building school spirit, and currently serves as its president. She is a member of both the National Honor and Leadership Honor Societies and serves on the school's prom committee. But the number and variety of her activities does not seem to dilute Gunter's commitment to any, according to Sandra Hamilton, one of Gunter's leadership teachers. "In each and every position," Hamilton says, "Lucy has given her all." Gunter recalls her mother reciting Mahatma Gandhi's "Be the change that you wish to see in the world" message early in her high school career. "I guess I kind of took that to heart," she says.
Gunter, who as student rep will be a nonvoting member of the School Board, does not have a rigid agenda for her year's service on the School Board. She did feel strongly about the need to eliminate the $100 per-sport fee on Virginia High School League athletes (the School Board recently voted to drop the fee for the 2012-13 school year) and she would like to promote technology training support for teachers. But her main objective is to learn as intimately as possible the perspectives, needs and viewpoints of the County's students, and to represent them on the School Board as forcefully as she can. "I want to form my agenda based on the students' opinions, not my personal opinions," she says.


TO THAT END, Gunter recently accompanied the School Board's outgoing student rep, Mount Vernon Senior Eugene Coleman III, on a visit to Mountain View High School in Centreville. "We visited classes, talked with the principal and a lot of the students," Gunter says. "We spent a lot of time listening to the students, which was really valuable." Gunter plans to visit as many schools as she can this year. "I think our County is really great," she says, "but there are ways to make it better for all students. I'm really excited to help make that happen."
According to Mary Landis, Gunter's other leadership teacher at Langley, Gunter has all the tools that the job demands. "Lucy is the perfect choice to be the student rep to the School Board," says Landis. "She is very mature, but also has a terrific personality and excitement for life. She works hard to improve school spirit and leads by example. Lucy's maturity enables her to communicate comfortably with both students and adults. I think she will be an excellent advocate for her fellow students."