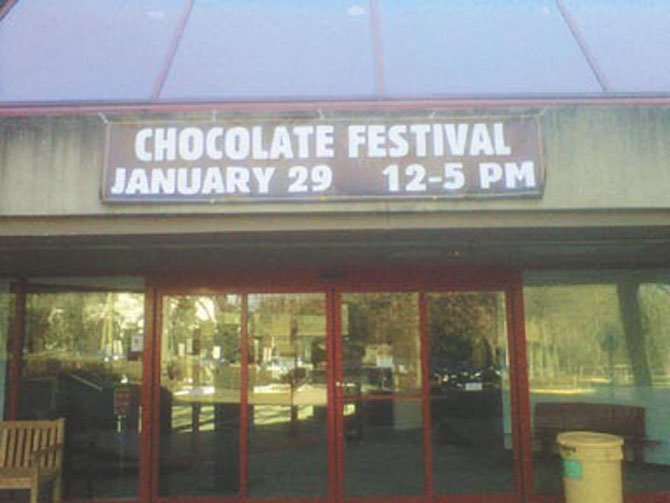 McLean — Like chocolate? The McLean Rotary club, along with the Governing Board of the
McLean Chocolate Festival Jan. 29
McLean Chocolate Festival will be held on Sunday, Jan. 29, noon to 5 p.m. at the McLean Community Center. Taste the specialties of area Chocolatiers while children play chocolate-related games. Admission $1. Children under age six are free.
Sponsored by the McLean Rotary Club and the McLean Community Center.
The generosity and participation of the McLean community in the festival will help the McLean Rotary Club support numerous local organizations, including: Timber Lane Elementary School Reading Program, Homestretch, Langley Residential Support Services, Literacy Council of Northern Virginia, Alternative House, Chesterbrook Residence, Falls Church McLean Children's Center, Lewinsville Senior Center, High School Scholarships, Stop Hunger Now.
The following vendors are scheduled to participate:
Godiva Chocolatiers, Spagnvola Chocolatiers, Rocky Mountain Chocolate Factory, Connie's Chocolate Confection, Schakolad Chocolate Factory, Dave's Candy Kitchen, C & D Sweets, Capitol Chocolate Fountains, Greenberry's Coffee & Tea, Sprinkles Cupcakes and Dogma Gourmet Dog Bakery and Boutique. Visit http://www.mclean...">www.mcleanchocola....
Community Center, is calling all chocolate lovers to the McLean Community Center on Sunday, Jan. 29 from noon to 5 p.m. for the inaugural McLean Chocolate Festival. Vendors will be selling all things chocolate: candy, cookies, fudge, chocolate-dipped fruits and other morsels, cupcakes, cheesecake, fudge sauce, and chocolate drinks. Local retailers Fluffy Thoughts and Greenberry's will be on hand, as well as national marketers Godiva, Rocky Mountain Chocolate Factory and Schakolad Chocolate Factory.
In addition, a number of local enterprises such as Dave's Candy Kitchen and SpagnVola Chocolatiers will be there. Sprinkles Cupcakes is coming from Georgetown. Even the Dogma Gourmet Dog Bakery is coming from Arlington to sell carob treats for your dog. There will be a refreshment room where you can eat your treats on site. In another room, students from the Interact Clubs at McLean and Langley High Schools will be conducting chocolate-related games for children while parents watch. The event is intended to bring the community together for a fun event for the whole family. It will also raise money for local and international charitable projects since 25 percent of all proceeds will go to Rotary to be used for charitable purposes.