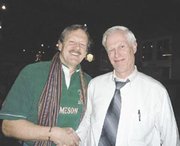 With an astounding 43 nominations, The Little Theatre of Alexandria led the way as the Washington Area Theatre Community Honors announced the nominees for the 2012 WATCH Awards Jan. 15 at the Birchmere Music Hall.
Last summer's blockbuster production of "Hairspray" garnered 22 nominations — including Outstanding Musical — the most of any single community theatre production in the Washington region. The farcical comedy "Noises Off" was nominated for Outstanding Play.
"I'm very happy," said Sue Pinkman, who earned a nod as Outstanding Director of a Musical for "Hairspray." "Everyone worked so hard on all of these productions and we are very excited about our nominations."
Shannon Kingett earned an Outstanding Lead Actress in a Musical nomination for her role as the spunky Tracy Turnblad and Christopher Harris is up for Outstanding Lead Actor in a Musical for his role as Tracy's mother Edna. Other acting nominations from "Hairspray" include Adrian Cubbage as Seaweed J. Stubbs, Jaclyn Young as Penny Pingleton, Scott J. Strasbaugh as Mr. Pinky, Gina C. Tomkus as Matron/Gym Teacher, Mark Williams as High School Principal and Brenda Parker as Motormouth Maybelle.
"Noises Off" walked away with six nominations, including Outstanding Featured Actor in a Play for Adam Downs. "Move Over Mrs. Markham" earned six nominations and "Widdershins" is up for four awards. The musical "Oliver! garnered three nominations and the mesmerizing drama "Rabbit Hole" walked away with two, including Outstanding Direction of a Play for Joanna Henry.
Alexandria's Port City Playhouse received three nominations, all in the marquee acting categories: Mark Lee Adams as Outstanding Lead Actor in a Play for "Mindgame," Robin Zerbe as Outstanding Lead Actress in a Play for "Angel: A Nightmare in Two Acts" and Lolita-Marie as Outstanding Actress in a Play for what is commonly referred to as the "No" play.
"I am so proud of Port City," said Adams after his nomination was announced. "Sometimes it's hard for the smaller theatre companies to break through the WATCH Awards. But that was the best role I have ever played. You know it's a good role when you miss it after the show closes."
Nominees were selected from 127 productions that were adjudicated at 32 community theatre companies. In each of 38 categories, five nominees (more in case of a tie) were selected based on the average scores of eight judges.
Winners will be announced at the WATCH Awards ceremony March 11 at The Birchmere Music Hall.
Little Theatre of Alexandria 2012 WATCH Nominations
Outstanding Cameo in a Musical - Scott J. Strasbaugh as "Mr. Pinky" - Hairspray
Outstanding Cameo in a Musical - Gina C. Tomkus as "Matron/Gym Teacher" - Hairspray
Outstanding Cameo in a Musical - Mark Williams as "High School Principal" - Hairspray
Outstanding Choreography - Ivan Davila - Hairspray
Outstanding Costume Design in a Musical - Jean Schlichting & Kit Sibley - Hairspray
Outstanding Direction of a Musical - Sue Pinkman - Hairspray
Outstanding Featured Actor in a Musical - Adrian Cubbage as "Seaweed J. Stubbs" - Hairspray
Outstanding Featured Actress in a Musical - Brenda Parker as "Motormouth Maybelle" - Hairspray
Outstanding Featured Actress in a Musical - Jaclyn Young as "Penny Pingleton" - Hairspray
Outstanding Hair Design in a Musical - Anna Michelle Jackson & Irene Kasotakis - Hairspray
Outstanding Lead Actor in a Musical - Christopher Harris as "Edna Turnblad" - Hairspray
Outstanding Lead Actress in a Musical - Shannon Kingett as "Tracy Turnblad" - Hairspray
Outstanding Light Design in a Musical - Franklin C. Coleman - Hairspray
Outstanding Makeup Design in a Musical - Robin Parker - Hairspray
Outstanding Music Direction - Christopher A. Tomasino - Hairspray
Outstanding Musical - Hairspray
Outstanding Properties in a Musical - Judy Kee & Margaret Snow - Hairspray
Outstanding Set Construction in a Musical - Chris Feldmann - Hairspray
Outstanding Set Decoration in a Musical - Marian Holmes & Russell Wyland - Hairspray
Outstanding Set Design in a Musical - Myke Taister - Hairspray
Outstanding Set Painting in a Musical - Kevin O'Dowd - Hairspray
Outstanding Sound Design in a Musical - David Correia & David Hale - Hairspray
Outstanding Hair Design in a Play - Howard Vincent Kurtz - Move Over, Mrs. Markham
Outstanding Light Design in a Play - Liz Owens & Nancy Owens - Move Over, Mrs. Markham
Outstanding Makeup Design in a Play - Howard Vincent Kurtz - Move Over, Mrs. Markham
Outstanding Properties in a Play - Rebecca & John Johnson - Move Over, Mrs. Markham
Outstanding Set Construction in a Play - Chris Feldmann - Move Over, Mrs. Markham
Outstanding Set Painting in a Play - Mary Hutzler - Move Over, Mrs. Markham
Outstanding Costume Design in a Play - Annie Vroom - Noises Off
Outstanding Featured Actor in a Play - Adam Downs as "Garry Lejeune" - Noises Off
Outstanding Play - Noises Off
*Outstanding Set Construction in a Play - Dan Remmers - Noises Off
*Outstanding Set Design in a Play - C. Evans Kirk & Dan Remmers - Noises Off
Outstanding Set Painting in a Play - Kevin O'Dowd - Noises Off
Outstanding Set Decoration in a Musical - Nancyanne Burton et al - Oliver
Outstanding Set Painting in a Musical - Erin Cumbo - Oliver
Outstanding Sound Design in a Musical - David Correia - Oliver
Outstanding Direction of a Play - Joanna Henry - Rabbit Hole
Outstanding Properties in a Play - Nicole Zuchetto - Rabbit Hole
Outstanding Costume Design in a Play - Annie Vroom - Widdershins
Outstanding Light Design in a Play - Ken & Patti Crowley - Widdershins
Outstanding Makeup Design in a Play - C. Evans Kirk - Widdershins
Outstanding Special Effects - Ken & Patti Crowley - Widdershins
Port City Playhouse
Outstanding Lead Actress in a Play - Robin Zerbe as "Irma Grese" - Angel: A Nightmare in Two Acts
Outstanding Lead Actor in a Play - Mark Lee Adams as "Dr. Farquhar" - Mindgame
Outstanding Lead Actress in a Play - Lolita-Marie as "Mattie Cheeks" - No Niggers, No Jews, No Dogs