Alexandria — With the Patriot District gymnastics meet scheduled for Feb. 2 at Lake Braddock, several teams participated in their final tune-up meet at West Potomac on Jan. 23.
Woodson, Lee, West Springfield and the host Wolverines competed, along with Hayfield, Marshall, McLean and freshman Grace Girard, who is T.C. Williams' lone gymnast.
McLean won the meet with a score of 141.8. Woodson finished second with 135.95, followed by Lee (131.05), West Potomac (128.8), Marshall (126.25), West Springfield (104.45), Hayfield (104.3) and T.C. Williams (33.7).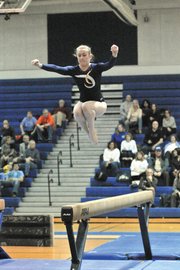 Lee junior Leah Michetti was the Patriot District's top all-around performer at the meet, finishing third with a score of 36.65. McLean's Abby Neuberger (37.4) was first, followed by Marshall's Morgan Stahl (37.35).
Michetti said she was shaky during warmups, but performed better during competition.
"Today was a pretty good day," Michetti said. "I was a little bit off on some things, but everything kind of worked out when I was actually competing. Warmup was a little bit nerve-wracking. … I wasn't hitting all my skills very well. I think I was pretty nervous for this meet, I don't really know why."
Michetti finished second on beam (9.5) and floor (9.45), third on bars (8.95) and eighth on vault (8.75).
Last season, Michetti won the district title in the all-around, placed seventh in the state and earned first-team All-Met honors. She said past success and accolades can add both pressure and confidence.
"I do feel a little bit of the pressure to keep on going and keep on doing well," Michetti said, "but also it's kind of one of those things that reminds you, you are good enough to do it, so you can do it."
West Potomac's Marien Voorhees (35.5) finished fifth in the all-around and Monica Thompson (34.95) was sixth. Lee's Katie Stewart (34.5) finished eighth. Stewart placed fourth in the all-around at last season's district tournament, earning her a berth to the regional meet.
Woodson's Annie Guidry (34.8) finished seventh and Shelly Morse (33.65) was 10th.
Girard (33.7) finished ninth for T.C. Williams.
West Springfield's Kristin Falk and Rebecca Waldrop tied for 18th with a score of 25.5.
--- Jon Roetman