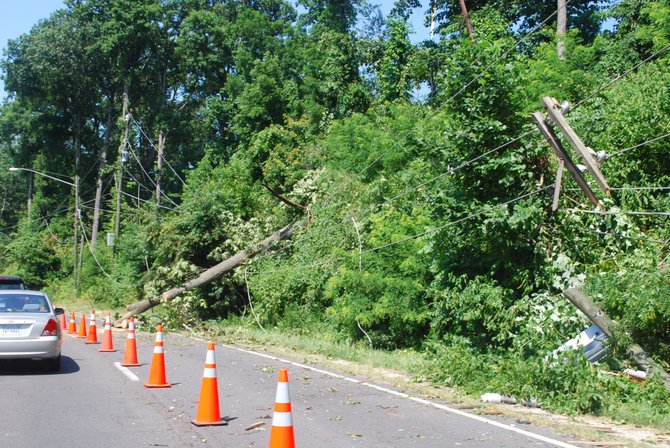 Winds more than 70 miles per hour swept through Potomac Friday night, June 29. Power went as the storm blew into Potomac with hurricane force winds sounding like a freight train.
Pepco reported that 210,000 of its 305,000 Montgomery County customers were without power on Saturday as temperatures soared into triple digits. On Saturday, 18,229 customers in Potomac 20854 were without power, meaning that almost every house and business was affected.

By Sunday afternoon, the number had been reduced slightly to 17,247.


ACROSS THE COUNTY, 500 of the total number of 800 stop lights were dark, with public safety officials imploring drivers to treat all intersections as four-way stop signs. People — motorists and pedestrians — were also urged to stay home after dark.
There was one fatality when a large maple tree fell on a house in Silver Spring, killing a 71-year-old woman. The tree fell sometime Friday night, and police and fire and rescue responded to an emergency call on Saturday. They forced their way into the locked house and discovered the woman dead in her bed, according to police reports.
County officials urge people to check on their neighbors, especially older one and in houses that have major tree damage. And to call 911 if you know of a home with major damage where you cannot make contact with the residents.
It will take at least several days and possibly as much as a week to restore power to most customers, Pepco officials warned.
"If you have air conditioning and haven't lost power, consider opening your home to family and friends who have lost power," tweeted Maryland Governor Martin O'Malley.


WITH TEMPERATURE PREDICTED to be 100 degrees or greater, there were hyperthermia concerns about residents who are older or with disabilities.
By noon Saturday, Montgomery County had opened cooling centers at Richard Montgomery High School, Clarksburg High School and White Oak Recreation Center. Montgomery County officials urged residents to bring prescription medicines, critical phone numbers and comfort items with them. Residents who have cats or dogs who are going to a county shelter can drop off their pets at the Humane Society.
With so many businesses without power, residents shared locations of gas stations that had power across email groups using cell phones. But open gas stations had long lines and then many ran out of gas.
Potomac Village was without power until late morning on Sunday.
With power out, perishable food in a refrigerator is unsafe to eat after four hours; a full freezer will keep food safe to eat for 48 hours, according to county health officials. They also urged residents without power to avoid using candles, and to use generators only in well-ventilated areas outdoors and not near open windows.


POTOMAC'S WATER filtration and pumping station lost power from Friday night until Sunday, and Montgomery County imposed mandatory water restrictions for all Washington Suburban Sanitary Commission customers. The Potomac pumping station provides the majority of Montgomery County's water.
Customers were instructed to use water only as necessary, limiting toilet flushings, washing machine and dishwasher as well as stopping all outside water use.
Water tankers were added to fire stations to help with fire fighting capabilities. Mandatory water restrictions help to ensure there will be sufficient water available for firefighting.


TIGER WOODS' AT&T National Golf Tournament was postponed until afternoon on Saturday, and then only open to players — no spectators or volunteers were allowed on the course at Congressional Country Club on River Road. With many downed trees and limited power, tournament officials worried about safety. PGA officials said it was the first time in memory that a PGA tournament had been played without spectators.
Pepco targets critical infrastructure firsts, such as hospitals, fire stations, water filtration plans and police stations, as well as those serving the largest number of customers.
Thirty-five road closures around the county with the number growing as more information comes in. Crews are clearing major routes first, helping public safety response and assisting Pepco crews disentangling wires and downed trees.


STORMS UPROOTED mature trees, blew down limbs, brought down numerous power lines and also broke power poles.
Two people died in Fairfax County, and Fairfax's 911 service was knocked out for several hours.
A 90-year-old West Springfield woman who was lying in bed died when a tree fell on her home on Carr Street at 11 p.m. Friday night.
A 27-year-old Burke man, Khiet Hguyen, died when a tree fell directly on top of his car on Old Keene Mill Road, according to Fairfax Police.
Call Pepco at 1-877-737-2662.
Call 911 for reports of "hot" or sparking electrical wires, especially those on roadways.