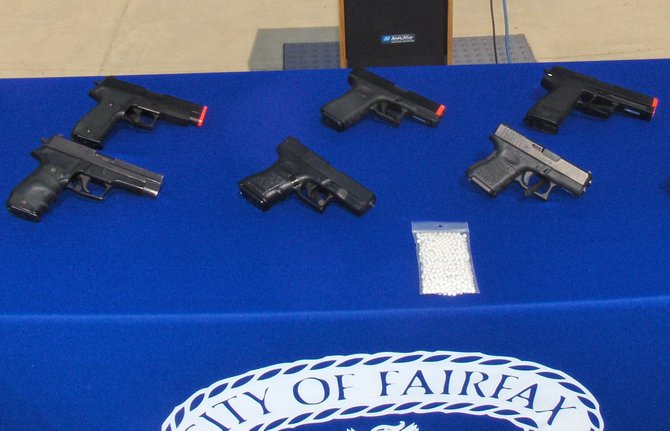 It was shortly before midnight when City of Fairfax police rushed to an apartment complex after receiving a report of a man there carrying a gun. He'd already pointed his weapon at several people when officers confronted him, had him drop the gun and arrested him.
This incident happened awhile ago, and the weapon turned out to be a replica of a long-barreled, semiautomatic rifle. But the man had removed the orange tip identifying it as a fake so, at first glance, police had no idea it wasn't real. And had he pointed it at them, the incident could have ended in tragedy.
"In the past year across our region, police officers have responded to many 'person-with-a-gun' calls," said Col. Rick Rappoport, chief of the City of Fairfax Police Department. "Often, officers are confronted with real guns in situations that are truly life-threatening. In a relatively small number of cases – but with increasing frequency – officers are finding that children and young adults with replica weapons are the reason for the call."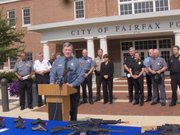 SO ON JUNE 29, his department hosted law-enforcement officers from throughout Northern Virginia at a special press conference to draw attention to the problems posed by realistic-looking, replica weapons. Displayed on a table was a large number of guns and rifles – and casual observers could not tell the real from the replicas.
Alexandria, Arlington County, City of Fairfax, Fairfax County, Falls Church, GMU, Herndon, Leesburg, City of Manassas, Prince William County, Purcellville and Virginia State police attended, as well as Arlington County and Loudoun County sheriffs representatives.
Rappoport said children and young adults frequently use replica firearms in games. And law-enforcement officers are especially concerned now that schools are out for the summer and children are engaging in more outdoor play.
"Today the chiefs and sheriffs of Northern Virginia are speaking out about dangerous games – the risks associated with replica weapons in the hands of young people," said Rappoport. "Replica weapons are manufactured to look and feel like the real weapon and to fire a plastic or synthetic projectile, usually by means of compressed air."
They're not firearms under the law. But, he said, "Neither are they harmless toys; replica weapons are capable of inflicting serious injury and causing serious damage to property. But the greatest risk occurs when others perceive them as real weapons and the person holding them as a real threat. Such situations have occurred throughout our region, sometimes with tragic results, so we're speaking out to educate children and parents, to alert our communities to this issue and to avert needless tragedies."
Rappoport said modern technology has advanced such that the toy guns of previous generations bear no resemblance to the kind of toy weapons available today. "[They're] identical replicas indistinguishable from real firearms," he said. But he doesn't want to condemn these products; he just wants them used safely and responsibly.
And that's critical, he said, because calls involving such weapons are both dangerous and potentially deadly. "In 2011, for the first time in 14 years, more U.S. police officers were killed by firearms than were killed in traffic accidents," said Rappoport. "And on average, about 50,000 people a year are killed or injured in an attack with a firearm."
The presence of weapons in every community – whether in the hands of the police, law-abiding citizens or juveniles – is a reality. However, young people are largely unaware that their behavior may be perceived differently than simply children playing games. So they're often shocked when police respond.


FURTHER COMPLICATING police matters, said Rappoport, is the fact that "criminals sometimes use replica weapons [and] kids sometimes play with real guns." So the law-enforcement community is making a concerted effort to educate the public about the appropriate response to people carrying weapons.
Arlington County Police Chief Doug Scott said criminals know there are lesser penalties for using replica weapons. But, he added, "It's important for parents and children to understand how we respond to those people brandishing them."
City of Falls Church Police Chief Mary Gavin noted that, a few years ago in her jurisdiction, "Children were using replica weapons and the citizens were arming themselves against [this threat]."
According to Leesburg Police Chief Joe Price, officers are trained to consider every situation real. When someone fires at them, he said, they only have "a fraction of a second" to determine whether to shoot back."
Scott Poole, principal of Lanier Middle School, said all these things illustrate "why it's so important for school officials to work closely with police to keep children safe." He noted, as well, the importance of a good relationship between the school, its SRO (school resource officer) and the community.
Lanier's SRO, Officer Mike Murphy, said SROs like him tell juveniles to use replica weapons "only in a safe environment or with parental supervision. And when law enforcement tells them to put down their guns, they should comply."
Basically, said the police, people should be wary of all weapons. Fairfax County Police Chief Dave Rohrer said criminals using replica guns cover up their orange tips. Conversely, added Rappoport, "Just because it has an orange tip doesn't mean it's not a real weapon."