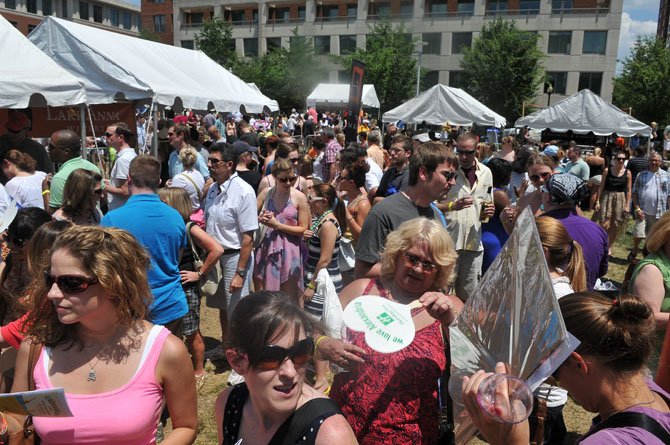 Not only were the restaurants and wineries participating in the first Carlyle Food and Wine Festival on June 23 able to share their cuisine and products with local residents, they were also able to network and give back to the community as well.
"We were quite pleased to be a part of the inaugural event," said Sam Misleh, owner of Walker's Grille. "It gave people the opportunity to experience our cuisine and as we gain more popularity at our current location we look forward in expanding our concept and philosophy in other areas in Alexandria."
Twenty-five taste tickets were given to each active military family as well as a free book. Other proceeds were donated to the Carpenter's Shelter of Alexandria.
The event included live entertainment, food and wine tasting, food demonstration showcase, a VIP networking reception for sponsors and a children's corner for the entire family. Residents were able to sample food and wine from several different local restaurants. Participating restaurants included The Chart House, Delia's Mediterranean Grill, San Antonio Bar & Grill, Walker's Grille, Clydes at Mark Center, Rita's Ice Custard, Indigo Landing, Alexandria Cupcake, La Tasca, and Jamieson Grille. Wineries included Mattaponi Winery, Unicorn Winery, Prince Michel Vineyard and Winery, Lake Anna Winery, Glass House Winery, DelFosse Vineyard and Winery and Cedar Creek Winery.
The local wineries and restaurants were able to compete for the best appetizer, the best main course and the best dessert. Winner for best appetizer went to Delia's with its halloumi crustini, main course winner went to Walker's Grille with its Asian-style short ribs and dessert went to Jamieson Grille with its green tea cheesecake.
Reacting to the large turnout, the festival committee are looking forward to continuing the tradition of having a Food and Wine Festival each year. They are also hoping that there will be more interactive events like this to bring the community together.
"We have certainly hit a nerve to have more community events like this in the Carlyle District," said Maurisa Potts, spokesperson for the Alexandria Food & Wine Festival. "For a first-year event, the festival had an incredible turnout to the point that the festival organizers and the city are already discussing expanding the footprint within the Carlyle District for next year. Many festival goers were not aware of this great area of North Old Town and we were happy to create an event to introduce them to this neighborhood."