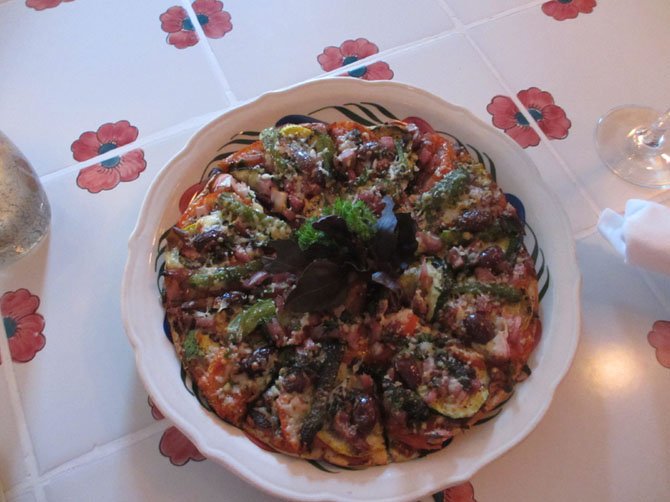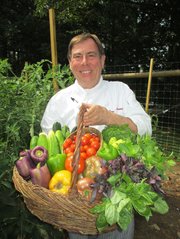 Washington's iconic culinary destination, L'Auberge Chez Francois, is as much a cultural experience as it is a dining venue. From its garden boasting a palette of seasonal hues and its lively patio to its brasserie showcasing treasures from the restaurant's past, and the storied Alsatian-themed classic dining rooms, L'Auberge Chez Francois draws the prominent and local lives to the Great Falls countryside.
Nestled on six acres of mature woodland, the chalet-inspired L'Auberge Chez Francois was sprung from the youth of its founder, Alsatian Francois Haeringer. Haeringer's original Washington-area restaurant was in the District, Chez Francois. When he moved his restaurant into the country 36 years ago, business associates thought Haeringer was crazy. Who would travel 20 miles, along winding two-lane hilly roads, for a meal? By all accounts, thousands and thousands would, have and do.
"It's a wonderful place," said Virgil Webb, lunching on the patio with his wife Susan on a recent afternoon. Virgil was waiting for his appetizer lobster bisque to cool down as Susan dove into her mushroom crepe. The couple, from Arlington, missed a birthday and an anniversary on the patio because it had been too hot. L'Auberge is worth the trip from Arlington four or five times a year. "It's the best place in the whole area," said Virgil Webb. "Wonderful food, wonderful people, wonderful customer service. Everything is always just great."


L'AUBERGE CHEZ FRANCOIS offers three dining sections: the original dining room, the umbrella-shaded patio and Jacques' Brasserie, opened about a year ago.
A diner in the brasserie orders the vegetable tarte flambe. L'Auberge Chez Francois chef/owner Jacques Haeringer himself takes a basket out to his garden, picking the ingredients that will top the flatbread crust … tomatoes, peppers, onions, zucchini, yellow squash. A chef will garnish the toppings with cheese, basil and kalamata olives, and the tarte is baked in a pizza oven. It is summer on a plate.
Haeringer's new garden is close to a quarter-acre. Monet could not have painted a more colorful landscape. There are purple peppers, orangy-yellow pumpkins, red tomatoes of diverse varieties from small to heirloom, and lots of green, whether it's leaves or plants. Yellow squash and green zucchini sprawl out. The herb garden was moved to the new area because the mature trees towering over the earlier herb garden give off too much shade for thriving herb plants.
Haeringer calls himself a "real" gardener. "I got that from Dad," he said. "We were both big-time gardeners." He plans on expanding the vegetable garden next year. "We just love this."
Between his garden, his local growers and suppliers, he is emphasizing more and more local ingredients. Haeringer buys hormone-free meat because that is their "preference." "We've been around so long, we're old-fashioned. This is the only way we know how to run the restaurant."
Jacques Haeringer got much from Dad.
When Francois Haeringer died two years ago at age 91, he left his business, his passion, really, to the adept hands of his son, executive chef Jacques Haeringer. Brother Paul continues to operate Chez Francois with Jacques. Although they have made some changes to the restaurant's layout, they have kept the heart of L'Auberge Chez Francois as "Papa" developed it.
"Jacques' Brasserie" took over unused space downstairs on lawn level. The room, with windows overlooking the gardens, was transformed into a traditional French-style brasserie. The hand-painted ceramic-topped tables are more than 50 years old. "Dad had these tables built himself when he was downtown," said Haeringer. "We decided to use them down here. They're part of our heritage."
And there's more from Francois Haeringer's past. The copper on a wall came from Francois. Behind the banquette is fabric from bolts that Jacques found at his father's home. The brasserie's sconces come not from the Haeringer collection but from the National Cathedral.


THE NEW BAR, called Bar Rouge, is off the brasserie and is named for its dazzling scarlet granite counter top. It opened in early July. Haeringer plans on offering "happy hour" drinks and appetizers there.
Pascal Perrochon, from France, is the chef de cuisine, in the kitchen from early morning to early evening.
Talking about L'Auberge Chez Francois, waiter Alejandro Garza of Herndon said, "it is, in itself, a destination."
What hasn't changed much are the menu classics, the heart of L'Auberge. While the menu changes seasonally, it retains the Alsatian focus L'Auberge has perfected since its inception. The restaurant offers daily specials to reflect special bounty, such as Dover sole flown in from France, but its core is the traditional cuisine patrons love. "Dad was a genius," said Haeringer. "He knew what people wanted. You go to a classic French restaurant because you want classic French food."
L'Auberge Chez François offers a 6-course prix-fixe dinner menu for the price of the entrée, ranging in price from $62.00 to $74.00.
The dining room menu is exhaustive. Most dishes are distinctively French, from frog legs to choucroute, from rack of lamb with herbs de Provence and a tarragon sauce, to chateaubriand, seasonal vegetables, roasted potatoes, with béarnaise and truffle sauce, and roasted breast of duckling with oranges and a Grand Marnier sauce.
Appetizers include from-scratch soups, including a garden-fresh gazpacho, to crepes and seafood.
One of the restaurant's signature desserts, a tribute to Francois Haeringer's grandmother, is a creamy bread pudding topped with vanilla sauce … heavenly.
L'Auberge now offers a la carte dishes in conjunction with its prix fixe menu. The choices are extensive because the "general," Francois himself, always said that people want choices.
Jacques' Brasserie extends the concept of choice. It offers some lighter fare, such as the vegetable tarte flambe, and is more casually-oriented. Choucroute is standard on the brasserie menu, as are pinot noir-braised beef and medallions of beef with a bearnaise sauce. The free-range chicken comes with spaetzle. The fresh calf's liver with bacon and caramelized onions is popular, too.
The whole restaurant is served by a single kitchen and staff. The brasserie concept has drawn in more local residents just "popping in," said Haeringer. They drive by, on the way home from work or activities, and stop by the brasserie.
Haeringer hosts quite a few fundraisers for the community throughout the year, including those with a personal mission. His wife died of breast cancer and fundraisers on behalf of breast cancer research funding are important to him.


JACQUES HAERINGER appears as guest chef on the "Today" show, eight appearances to-date, and on local Washington, D.C. stations. He is personable, deft with his culinary technique, smiling, and speaks French. His extroverted personality, charisma and passion for food makes for good TV. For his July 11 demonstration on WUSA with J.C. Hayward, Haeringer prepared cantalope stuffed with crabmeat to celebrate Bastille Day on July 14.
OpenTable.com voters have placed L'Auberge consistently as one of the top 50 restaurants in the country. Couples, families, business people, celebrate at the restaurant.
Haeringer said that about 10 percent of the restaurant's clientele have dietary concerns, from gluten avoidance to sodium restriction. The restaurant accommodates dietary needs whenever possible. "We are happy and able to do custom dishes," said Haeringer. L'Auberge is putting together menu notations alerting customers to gluten.
For many patrons, the ambiance, the setting, is part of the dining experience. The Webbs waited for weather conducive to dining on the patio. For the group of retired teachers who came from Montgomery County for the three-course luncheon, the grounds "make" the experience.
When family from out of the area visited Susan and Virgil Webb a month ago, the Webbs brought them here, to the patio, for a great meal. "We brought them to the best place we know," said Virgil Webb.
L'Auberge Chez Francois is at 332 Springvale Road, Great Falls, in a residential area. It is across the corner of Springvale Road and Beach Mill Road. For reservations, call 703-759-3800. For more information on the restaurant, go to http://www.laubergechezfrancois.com/ Chef Jacques keeps a Facebook page, as well, updating specialties and garden bounty, https://www.facebook.com/pages/LAuberge-Chez-Francois/137965396217685.