Alexandria — Long-time Alexandria resident Kathryn Medina is among the 40 percent of college students who are considered non-traditional — those who've gone back to school after employment.
A graduate of Strayer University with a BA in business administration in 2004, Medina was honored June 23 with the title of outstanding alumna at Strayer's commencement ceremony at the Verizon Center in Washington, D.C.
Each year the university gives out the award to former students who demonstrate community service, as well as post graduate leadership.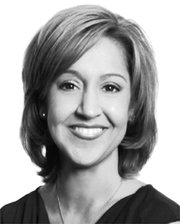 "I was really honored and humbled when I found out about the award," she said.
Since she did not get to attend her own undergraduate and graduate commencement ceremonies, being given this award was a like a second chance to acknowledge and celebrate her accomplishments with her family and friends.
Medina currently serves as an executive director of the Chief Human Capital Officers Council at the U.S. Office of Personal Management which coordinates human resources activities across 26 federal agencies.
Through her work with OPM, she became involved in Feds Feed Families, a volunteer organization comprising federal workers who collect food over the summer months for families throughout the U.S.
Last year, it collected more than 6 million pounds in food for children during the summer months when school-sponsored breakfast and lunch programs are no longer available to them. The group also is involved with the military across the country.
"I never thought about the fact that there are so many children who are dependent on food supplement programs during the school year. When somebody told me that kids are out of school during the summer and the food bank shelves are empty. It really got me thinking about my 5 year old and to think that he wouldn't be able to eat during the summer if I could feed him, it's pretty heartbreaking," she said.
After working in legal administration for nearly 10 years, she recognized that a degree would be necessary to advance within her field. So she enrolled in Strayer University.
"I chose Strayer University because it allowed me flexibility. I was able to take most of my classes online which helped me balance my family and work with obtaining my degree," she said.
Like many traditional and non-traditional students, Medina changed majors frequently until she found the right fit.
"I went through several majors. But the career guidance I received through the counselors at Strayer really helped me figure out which path was best. It was a really valuable resource to have," she said.
Medina also credits her counselors with helping her develop a plan to quickly obtain her undergraduate degree.
In the end, she chose a degree in business administration for its versatility.
Moreover, she believes that her degree gives her more credibility among her peers because she has a broader expertise and can perform a number of roles in business.
Medina sums up her educational experience as very rewarding and she admonishes others that it is never too late to go back to school: "You are never too old. I would always hear about these 80 year olds getting their degrees. OK, so it doesn't matter how old I am if I'm in my 20s or 30s. I have established a very successful career having graduated later than a traditional student and it hasn't stopped me at all."
In addition to her BA degree, Medina also has a master of education in global human resource development from the University of Illinois at Urbana-Champaign, and earned her Lean Six Sigma certificate from Villanova University. She has also been a certified senior professional in human resources since 2006.