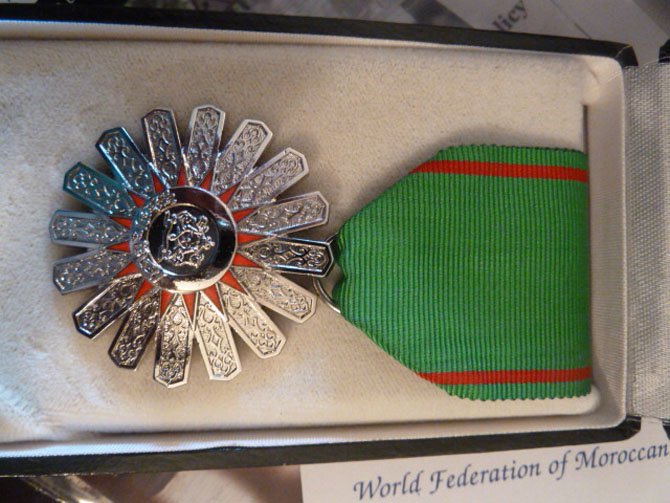 Potomac — In the midst of Potomac lives a knight — and that knight is also known as the "Johnny Appleseed" of Morocco. Charles Dahan immigrated to the U.S. from Morocco via Switzerland in 1973 — when he began working as a chemical engineer for the DuPont Corporation. Life took him down a variety of paths and he became an inventor, good-will ambassador, international advisor, philanthropist, linguist, husband and father. He was knighted in 2000 by His Majesty Mohammed VI of the Kingdom of Morocco who presented him with the "Chevalier Du Wissam Al Moukafaa Al Watania" (Knight of the Order of National Merit).
What did Dahan do to earn the honor of knighthood? Since 2002, he has been active in a program to plant one million trees in Morocco in conjunction with the High Atlas Foundation, a group formed by former Peace Corps volunteers. Dahan serves on the board and makes contributions which enable the foundation to provide fruit, nut and olive trees to the poor farmers in rural areas of Morocco. The group partnered with the Moroccan government to give enough land for 100 trees to each family, who agree to maintain it. Because of this program, the farmers are able to double their yearly income, feed themselves and also sell the remaining fruit, nuts, olives and olive oil to become self-sustaining. This organization — and Dahan — have changed the lives of more than 36 000 Moroccan families.
In 1983, long before he became Sir Charles, Dahan invented "Le Facetor," a machine which created a beveled edge on eye glasses and a new concept in optical design. His invention was soon adopted by opticians around the world. "Prior to my invention, people had to wear glasses that were very thick and extremely uncomfortable. I wanted to reduce the thickness of the lens to make glasses more attractive and easier to wear."
In 1984, Dahan founded Custom Optical Frames, Inc., an eyeglass frame design and manufacturing firm that introduced the concept of "private label" to eyeglass retail chains in the United States, Canada, Asia and Europe.
In addition to managing his businesses, Dahan promoted Morocco as a trade partner for the U.S. and consulted with the World Bank on renewable energy. "I also served as a good-will ambassador for Morocco providing the very important link between the Moroccan Jewish community, the Arab world and the U.S.," he said. Because of his generosity as well as his commitment to the people of Morocco, its king honored him by awarding him knighthood.
He has received other distinctions and awards including the "1000 Points of Light" Award from President George Bush (1990); the ORT Science and Technology Award (1992); the "Best of the Best Award" for eyeglass frame design (1993); The President's Volunteer Action Award From President Clinton (1994); President, National Capital Area Chapter for the American ORT Federation (non-profit organization providing scholarships for education and training for over 260,000 students in 60 countries) from 1995-1999; President, Magen David Sephardic Congregation, Rockville, Maryland (2000); Vice President, World Federation of Moroccan Jewry (since 2001); Vice President, World Sephardic Congress (2003) and the Moroccan Appreciation Award for exceptional achievements and contributions to the Moroccan community (2005), and Presidential Tribute for his dedication and generosity to the community from Magen David Sephardic Congregation (2010).
Dahan's latest business venture is with the Axion International Corporation, a company which manufactures railroad ties, I-beams, boards and marine pilings from recyclable materials. He is excited to be involved with "green" materials which will improve the world. He also participates with the Center for Strategy and International Study.
Dahan resides in Potomac with his wife Betsy. They have three children, Joel, Danny and Amy.