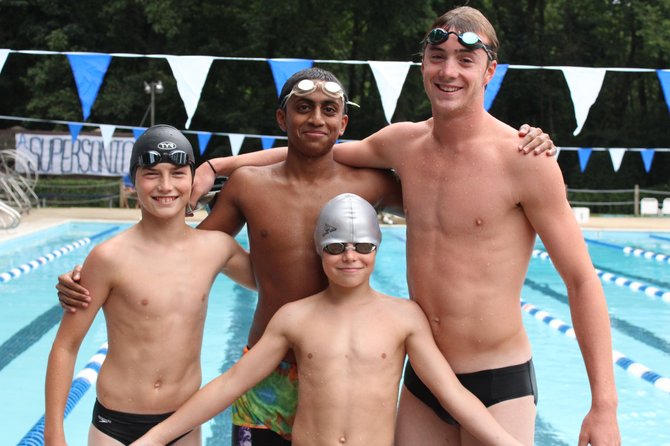 The Sully Station SSTs endured some tough competition Saturday, July 14 as the Langley Wild Things stole the show, beating the SSTs, 231-189. Despite the loss, the SSTs persevered, winning 17 individual events, five relays, racking up points with 38 swimmers reaching second- and third-place finishes and 40 swimmers achieving personal-best marks.
Starting off strong, the SSTs shined during the freestyle events, winning seven out of 10, including a sweep in the girls' 15-18 50-meter event. Logan Coulson Moore led the way with a time of 28.70 seconds. Megan Hickey and Grace McKnight finished close behind in second and third.
Seizing first place finishes in the backstroke were Nate Hamluk in the 25 and Elise Mozeleski and Logan Coulson Moore in the 50. Two SSTs had outstanding swims, achieving personal bests of more than 5 percent, an outstanding feat this late in the season. Ten-year-old Gonzalo Lopez Olan swam the 50 in 56.30 seconds, beating his previous best by 7.93 percent, while 11-year-old Brian Dickinson crushed his best time with a time of 52.97 seconds, a 15.23-percent improvement.
The SSTs continued to battle by winning half the breaststroke events. Bryce Brown led the way in the 25-meter 8U event with a time of 27.13 seconds. Brian Patten, Allison Hickey, Payton Moore and Brandon Fiala were the victors in the 50 meter. Madison Stulga (15-18) pushed herself to a personal best of 7.25 percent.
While Sully Station lost some ground in the butterfly events, triumphant in only two races, Elise Mozeleski bolted to the finish, seizing first place in the 9-10 25 meter, beating out her nearest competitor by just shy of five seconds. Michael McPherson won the 15-18 50 meter, also beating the second-place finisher by nearly five seconds. Three SSTs improved their best butterfly times by more than 5 percent, including 7-year-old Jakob Huse in the 25 meter, with an improvement of 6.32 percent, and 11-year-olds Caroline Render and Nora Talley in the 50 meter by 7.64 percent and 10.4 percent, respectively.
The SSTs rallied during the relays, winning five out of 12, but unfortunately, it wasn't enough to deliver the win. In the 9-10 100-meter relay, Marie McPherson, Adison Moore, Jessica Dickinson and Allison Hickey squeaked out a win with .34 seconds to spare. The SSTs were victorious in both 13-14 100-meter relays: the boys — Collin Fiala, Stephen Bak, Anirwin Sridhar and Matthew McPherson — by a margin of 2.12 seconds and the girls — Elise Mozeleski, Lauren McDermott, Elayna Render and Sophie Wilson — with another close win of .71 seconds. The 15-18 boys swam well in the 200-meter Medley. Brandon Fiala, Sam Wilson, Michael McPherson and Jake Bowen defeated the Wild Things by more than nine seconds. Finally, the 18U mixed age boys' 200 freestyle relay team of Harrison White, Brian Patten, Anirwin Sridhar and Brandon Fiala swam well, finishing a mere .02 seconds shy of a seven-second win.
Monday night, the SSTs hosted their final home "B" meet of the season, swimming against Brookfield. The team topped the scoreboard in 31 out of 54 events, sweeping six races. What is even more impressive is the number of new swimmers and swimmers competing in new events. Six-year-old Carter Kimmel swam in his first meet, placing fourth in the 6U 25-meter freestyle. Kennedy O'Neail made her competitive debut in two events: the 6U 25-meter freestyle and 6U 25-meter backstroke. The boys' 6U backstrokers — Grant Seat, Tommy Townsend and Connor Moon — were all first-event swimmers and had strong finishes, taking second, third and fifth, respectively. Swimming backstroke for only the second time, Ariyan Jazaeri placed fourth. Seven-year-old Cambria Johnson swam her first 8U backstroke, placing fourth.
With 61 personal best times, the SSTs continued the team effort of focusing on individual development. Eight swimmers relatively new to their respective events crushed their own best times by more than 10 percent: Benjamin Campet in the 6U 25-meter freestyle improved by 10.81 percent, 8U 25-meter backstrokers Natalya Hamluk by 16.02 percent and Shayan Jazaeri by 24.64 percent, 8U 25-meter freestyler Elliott Kaplan by 13.32 percent, 6U freestylers Zachary Kronimus by 11.45 percent and Clair Robinson by 10.81 percent and James Kruk bested himself by 12.64 percent in the 8U 25-meter backstroke. Sabrina Piazza also had an incredible finish with and improvement of 14.72 in the 9-10 freestyle event.
As the swimmers become more experienced in their events, mature and get stronger, it is increasingly difficult to earn significant personal bests, especially as each season progresses. Many of the older SSTs are experiencing this frustration, but succeeding in consistently cutting time, typically by as little as .2 percent up to 2 percent. This week, 12-year-old Patrick Cole demolished his previous best in the 50-meter butterfly by 7.46 percent. Similarly, 16-year-old Alex Huffman scored outstanding personal best marks in two events: 2.96 percent in the 50-meter freestyle and a 4.14-percent improvement in the 50-meter breaststroke.
At press time, the Sully Station SSTs will be competing in the NVSL All-Star Relay Carnival. Eleven SST teams qualified for this meet, more than any other team in their division. Saturday, July 21, the SSTs host their final "A" meet of the season against Cardinal Hill. On Monday, July 23, the SSTs will travel to Greenbriar to finish the regular season.