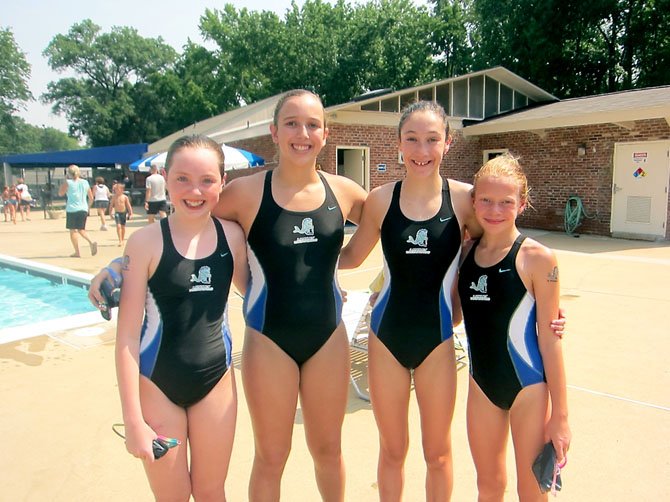 The Langley Wildthings continued their strong start this season with another Division 5 win, against the Waynewood Dolphins. The score was 221-199, bringing the Wildthings to 2-0.
Two club records were broken: the two-week-old Girls 8 and Under 100 Free Relay record was broken by the team of Kate Walter, Natalie Schmanske, Heather Hughes and Lilianna Schone, with a time of 1:18:20. The previous record of 1:18:98 was set two weeks ago by a team that included three of four of the same swimmers.
The Girls 11-12 100 Medley Relay record was broken by Claire Mullery, Elena Shklyar, Emily Wallach and Maggie Bellaschi. The new record of 1:08:34 shaves three tens of a second off the previous record.
Double blue ribbon winners were: Luke Watson, Jack Hoeymans, Emily Wallach, Jinwon Bailar, Tatiana Bennett, Elena Shklyar and Nathan Johnson.
Single event winners were: Audrey Wallach, Peter Kaldes, Addison Collins, Schuyler Bailar, Kate Walter, Derek Proxmire, Katie Bellaschi and Helena Swaak.
The Wildthings' meet on June 30 was postponed due to power outages at the both The Langley Club and the opponent's pool. It was rescheduled for Sunday, July 8.