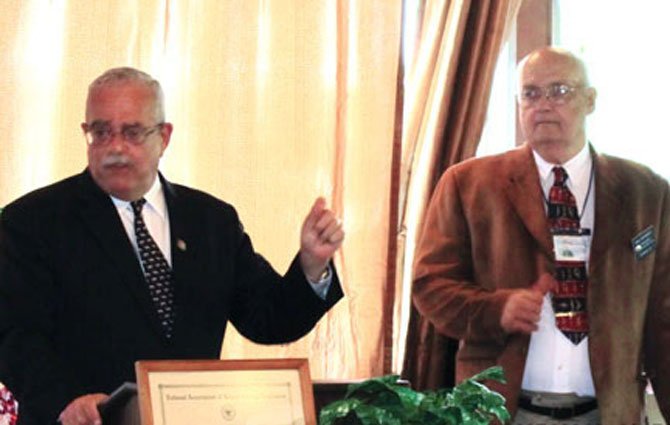 U. S. Representative Gerald E. Connolly (D-11) and NARFE President Joseph Beaudoin headlined the impressive list of guests as members gathered to celebrate Dulles Chapter 1241's rich history of representing active and retired federal workers in protecting their earned pensions and benefits for 40 years. The festive luncheon program was held on June 25 at the Amphora Diner Deluxe in Herndon.
Other guests included Del. Thomas Rust (R-86); Ann Rust, aide to Senator Mark Warner (D); Region X Vice President William F. Martin; Virginia Federation of Chapters (VFC) President Luther Santiful; VFC Area X Vice President Victoria Duarte; VFC Area IX Vice President Pierce Johnson, and VFC Public Relations Committee Chair Gaston Gianni.
Greeters Shirley Boning, Art Brophy, and Ellie Fusaro greeted more than 50 members and invited guests as they entered the patriotic "Red, White, and Blue" room. The celebration was led by Chapter
President Bill Schmidt who served as emcee throughout the event. Long-time member and Past Chapter President Bill Boning spoke about "Dulles Chapter Then and Now."
Representative Connolly and President Beaudoin spoke of the challenges facing active and retired employees and the importance of an organization like NARFE. Del. Rust presented the chapter with a Resolution of Appreciation from the Virginia General Assembly.
President Bill Schmidt recognized Olive Panzera, the only known living charter member of the chapter, although she was unable to attend.
President Beaudoin joined Chapter President Bill Schmidt in cutting the first slice of the special 40th Anniversary Cake and recognized Program Co-Chairs Sue Righter and Shirley Vaughn for their work in making the anniversary celebration a reality.
Dulles Chapter meets monthly at the Amphora Diner in Herndon and covers the areas of Ashburn, Centreville, Chantilly, Herndon, Oak Hill, Reston, Sterling, and Outlying Areas. For more information,