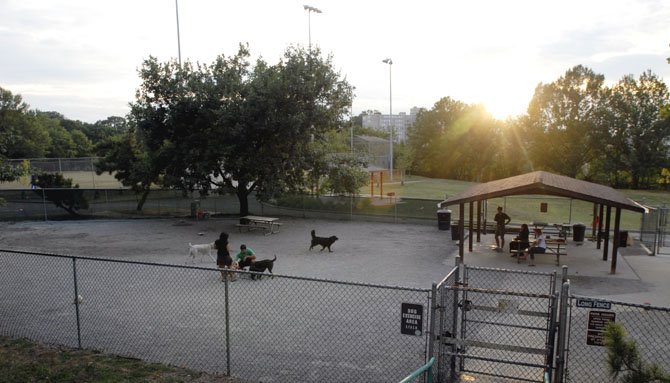 Arlington — On a recent Saturday morning, more than 40 dogs could be seen running around chasing each other, splashing in the nearby creek and busy just being dogs at the Shirlington Dog Park, one of eight such parks which thousands of Arlington and area residents enjoy each week.
The dog parks, or "Canine Community Areas," give dog owners a place to let their dogs legally run off-leash to enjoy the outdoors and play with other dogs, as dogs are not allowed off leash in any other public places. The parks boast a variety of amenities, differing from park to park. The amenities include off-leash areas for the dogs to play, lights, shade and seating for their owners, and all, except for James Hunter Park in Clarendon, have a water feature so dogs can stay cool during the hot season.
"Arlingtonians love dogs. And while we do not allow dogs off leash in our parks, we know they love to run and socialize and these areas are the perfect place," said Susan Kailish, director of marketing and communications for Arlington County Parks and Recreation, when asked why so many parks exist in the county.
Because so many Arlington residents live in condos or don't have a yard, the CCAs provide a place for dog owners to take their dogs to play and socialize with other dogs. Though the dog parks are mainly for dogs to socialize with each other, many owners see them as more than just a place to bring their pets to get some exercise, but also as a place for the owners to socialize and meet their neighbors.
"The dog parks aren't just for the dogs to enjoy themselves, but also a place to make friends and have a good time," said Suzanne Cooleen, president of the Towers Park CCA Board. "I've made some of the closest friends I have ever had here."
Users of the Towers Park often organize fundraisers for park needs, as well as when a neighbor is in need. "We are a family and help each other out. This is the best group of people, and dogs, I have ever been associated with," said Cooleen.
Users of the Arlington CCAs, along with the boards of each park, often raise funds to purchase items for the parks, like toys, dog bowls and pools. "With the city's limited funds, we don't want them to waste money on small thing like toys or a piece of agility equipment that an owner recently made for the park. We would rather that money be used for major renovations like lights, repairing storm damage or making the parks ADA accessible," said Cooleen.
Krista Sharp, an Arlington resident and frequent visitor to the Utah St. CCA, repeated Cooleen's sentiments. "You get to know the dogs and owners, and they get to know you. These parks are as much for them as it is for us," said Sharp.
Margie Fehrenbach, another user of the Utah St. CCA said, "The parks are very convenient, and most owners are generally very attentive to their dogs behavior and act responsibly to make a positive experience for everyone."
As with any park, the CCAs sometimes need improvements, or in the case of James Hunter Park in Clarendon, a total renovation. Before recently closing for renovations, Hunter Park was the only dog park in the county without running water, and owners had to bring their own jugs of water for dogs to share. The park is currently under renovation and will feature a running area for dogs, more seating for owners, synthetic turf, picnic areas, a water feature for both humans and their canine companions and a solar power system to power the park, as well as a rainwater irrigation system. The renovations are estimated to be completed by late February 2013 with a cost of around $1.6-million.
Renovations will also be made to the CCA at Towers Park, which will include making the park ADA compliant with an anticipated completion date of late 2012 or early 2013.