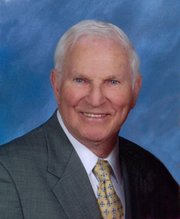 Alexandria — The Hon. Judge Edward S. Kidd, Jr., 81, died peacefully July 14, 2012.
He was a wonderful husband and father, and a great friend to many. He graduated from George Washington University School of Law. He served in the U.S. Army during the Korean War. He and his wife, Betty Kidd, have resided in Roanoke for the last 45 years. He practiced law and served as District Court Judge from 1978 to 1981 and served as Chief Judge of the General District Court for 23rd Judicial Circuit from 1981 until retiring in 1994. He was predeceased in death by mother, Grace Kidd; father, Edward Kidd Sr., and two sisters, Edna May Collins and Marion Smith.
He was an avid Floyd farmer and craftsman. Often indulging in painting, sculpting, and woodworking. He enjoyed researching and illustrating historic Virginia courthouses. He was a member of Delta Theta Phi Legal Fraternity and the Andrew Jackson Masonic Lodge in Alexandria. He was involved in Civic Affairs, Previous Board Member of Association of District Court Judges of Virginia, Inc., Past-President of the American Judges Foundation.
Judge Kidd will be missed and remembered by Betty Kidd, his wife of 58 years; daughter, Deneen Kidd Amos, of Chattanooga, Tenn.; two sons and daughters-in-law, Stan and Susan Kidd, Virginia Beach, Va. and Michael and Angela Kidd, of Archdale, N.C.; six grandchildren Cristin Amos, Wil Amos, Eastan Kidd, Trevor Kidd, Tyler Kearns, and Ashley Kearns; one sister and brother-in-law, Barbara Jean and Creighton Jones, of Petersburg, Va.; and one brother and sister-in-law, Alan and Kathy Kidd, of Panama City, Fla.; and numerous nieces and nephews.
Funeral service were Wednesday, July 18, at Oakey's Roanoke Chapel with the Rev Brent Williams officiating. Interment was at Green Sea Baptist Church Cemetery in Green Sea S.C. on Thursday July 19. In lieu of flowers, the family requests donations be made to the Colonial Presbyterian Church, Roanoke, Va.; the American Heart Association or a charity of your choice. Online condolences can be made at www.oakeys.com.