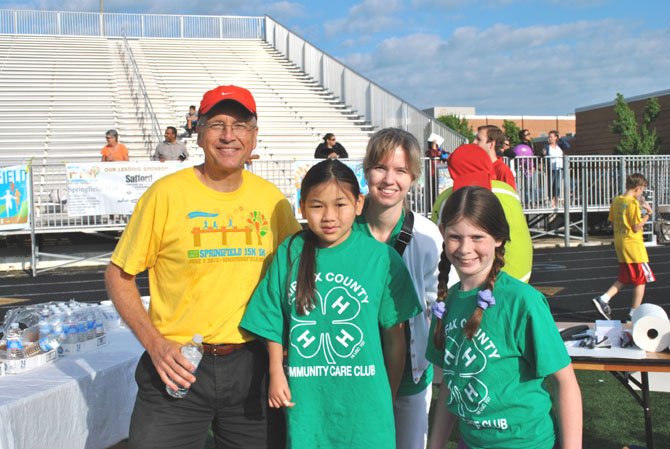 This year marked the third annual race at Springfield Days and had by far the largest turnout the event has ever seen. "Several years back we decided that we needed a signature race for the people of Springfield to call their own, and it just keeps getting better and better every year," said Mark Russell of Springfield, the race coordinator. The event that took place at Robert E. Lee High School featured a large array of food, live music, orthopedic massages for the runners and a moon-bounce at the finish line. "The race takes you all through the downtown boulevards and through a few parks and neighborhoods and of course everyone loves a track finish."
The overall winner for the 5K race, Peter Coffey (Alexandria) admitted that he only heard about the race two days before from a friend but "the weather was great and it's a pretty good day for a race." The 5K also featured a seasoned runner Bob Gurtler (The Plains), who has run the race all three years since its founding in 2010. "It's a great race, great weather and very well organized." said Gurtler.
Many runners like Lauren Gerahty (Springfield) came out just to have a good time with family and friends. Gerahty pushed her 2-year-old son Jack in his stroller the full 5 kilometers and admitted "I always try to go faster when I'm with him, so he doesn't try and climb out of the seat." However the real purpose of the race was to raise funds to give back to the community. "Today we will raise over $20, 000. That money will go to local non-profits that help underserved and underprivileged children have access to recreation and fitness resources," said Russell. "This event is really about giving back to the community."