Arlington — On June 9, the National Multiple Sclerosis Society's local chapter will host Bike MS, the 30th annual event in which bikers seek sponsors to raise money and awareness for multiple sclerosis research. This year's event, called Ride the Riverside, begins and ends at the National Harbor and lasts overnight. Participants can ride between 30 and 150 miles.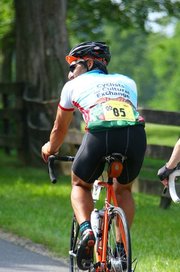 MS is an autoimmune disease whose symptoms often include muscle weakness, lack of balance and coordination and difficulty speaking and swallowing, among other things. The event has drawn residents of Alexandria and Arlington, many of whom have friends or family members with MS or have been diagnosed with the disease themselves.
Laurie Erdman, a holistic health coach from Arlington, initially participated in Bike MS three years ago. Her friend had previously been diagnosed with MS and her husband, Bennett Minton, was sponsoring a team. Her experience with MS changed when she was diagnosed two years ago. "It became personal after that," she said via telephone.
Minton, who works for KPMG, has participated in Bike MS since 2009."I did pretty well, raised a lot of money," he said via telephone. "Six months later my wife got MS. Then we got serious about it."
Minton said that his wife has treated her symptoms by changing her lifestyle. She took a nutrition course online and now helps people who have autoimmune diseases, which in addition to MS include diabetes, Parkinson's disease and other illnesses.
John Edwards, a software engineer in Alexandria, also has MS; he was diagnosed in 2006 after a climbing trip. Before his diagnosis, he was an avid cyclist, rock climber, mountaineer and kayaker. Although he considers himself lucky that he does not have limited mobility or loss of motor control, he experiences pain, numbness and spasms. "I wanted to do things to help find a cure mostly because it's so difficult to deal with," he said via telephone. "I wouldn't want anyone else to go through the same thing I do.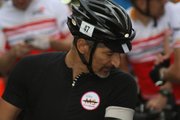 Edwards' fundraising has received support from his friends and colleagues, with whom he has formed a team. His company provided team jerseys.
In April, he sponsored a fundraising event at his home, where he showed a documentary on MS. According to Edwards, he received "really good support from the local cycling community."
As of June 4, Minton is ranked third on the Top 10 Participants list with $12,005 and Edwards is ranked fifth with $5,510.
Like Edwards, Jennifer Weiss of Arlington started a team to participate in Bike MS. Weiss initially rode with a group called Babes on Bikes, then recruited men and women to join her team, which has raised almost $500,000. "It's amazing how many people have actually been touched by the disease," she said via telephone. "I [ride] because I care about [curing it]. In the 12 years since I've been involved MS has gotten some actual advances in treatments so we feel like we're really making a difference."
In 2011 the National Multiple Sclerosis Society simplified the criteria used to diagnose MS, which will expedite future diagnoses, and is seeking marketing approval for new drug therapies. It also helped fund a study that identified genetic factors associated with the development of MS.