Arlington — While some pre-teen boys are playing in house league basketball and soccer games, 11-year-old William Polly of Arlington is gearing up for the AAU Junior Olympics in Houston, Texas, to take place July 25-27. He will be competing in sport stacking, which Polly said he began when he was nine years old.
"When I was in kindergarten, what they call after-care [at my school], they had it [the cups for stacking], and then I got a set for Christmas," William said. "I never used it because it wasn't interesting to me at the time. But then there was a commercial for it, and there was a kid who was really fast on the commercial, and that encouraged me to start again. And I wanted to beat him."
And that, William did.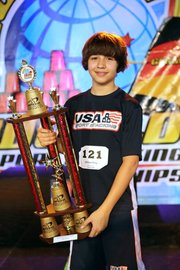 Sport stacking is not as well known as other sports in the Junior Olympics, and William said this will be the first year stacking is a Junior Olympic sport. Sport stacking involves stacking small plastic cups in different structures series of pyramids. There are three events: the 3-3-3, which involves nine cups; the 3-6-3, which involves 12 cups; and then there is "a routine called the cycle, which is a little bit more complicated," said William.
Tournaments are promoted and sanctioned by the World Sport Stacking Association, William's mom, Laura, said, and "anyone can participate."
"You just have to register, and then you can compete," she added. "There are tournaments all over the world, and this association sanctions them. If a tournament is sanctioned, stackers can set records — from state to world. So the kids go to the website for this association to find tournaments. If you do well enough at the state and regional level, you can be invited to be a member of Team USA."
It was William's second-ever tournament in which he was invited to become a member of Team USA.
"It was my Mid- Atlantic Regional Tournament in Delaware, my second tournament ever. It was a year after my first tournament, so I was new to it. So I tried my hardest there and won two events, and the judges invited me to be on Team USA," he said.
He was 10 years old at the time, he said. Now at 11, after two and a half years of stacking, he is the current U.S. National Champion, a two-time World Champion, and will be a Junior Olympian in the sport this summer.
Laura Polly said that "certain tournaments have been designated as Junior Olympics qualifiers, so kids who finish in the top five in any event for in their age division at a qualifying tournament are invited to go to the Junior Olympics."
William said the feeling of excelling at the sport is indescribable.
"It feels really good to know that I've accomplished something that I didn't know I could accomplish," he said. He added that he practices three to four hours a day, but enjoys every minute of it.
His success has led to appearances on the Tonight Show With Jay Leno last summer, and this month on Live! With Kelly.
"'Live! With Kelly' was really fun, a great experience," William said. "It was nerve-wracking, though. Every class in the fifth grade at my school watched me while I was on, so once I was up there I was really nervous."
As for being one of the first-ever sport stackers at the Junior Olympics this summer, William said it feels really good.
"A lot of young stackers look up to me, and I'm getting really fast, and that makes me feel really good," he said.
He added that he has been to 15 tournaments and came out as the overall individual champion in 12 of them. "The cycle is my best. I've set world records in all [of the events], but my best world record was in the 3-6-3, because it was so much faster than my previous personal best, either in a tournament or just at home."
His personal bests at tournaments are as follows:
3-3-3: 1.61 seconds
3-6-3: 1.96 seconds, in which he currently shares the world record
Cycle: 5.71 seconds,
Currently, William also holds the world record in doubles with his partner, who lives in Ohio.
"The cycle is my favorite event. Some people say I'm the most unlucky person in the cycle, because something always happens and just I miss setting a new record."
When a fumble causes a cup to fall and the stacker doesn't fix it, the attempt is a scratch and doesn't count, according to Williams.
As an ambassador of the sport, he said he tries to spread the love of stacking.
"Once I teach one person, I hope they teach another person, and it just progressively gets bigger and bigger. I want the sport to be as well known as tennis and basketball."
"There's a huge YouTube community all over the country, and all over the world really," Laura Polly said. "The kids are keeping up with each other mostly on a daily basis through the Internet, which is really the way they constantly drive each other to improve; competitions can be few and far between."
While William said he will be practicing more with the Olympics coming up, his father, Kris, said, "It's a very good- natured sport among the kids and their families."
"What's great is that there are no injuries or violence," Kris Polly said. "It is competitive, but there is no trash talk. And when someone breaks a record, the other stackers are happy for that person. You don't have to be big to play the sport. It is an any-kid sport — it's all up to the kid."