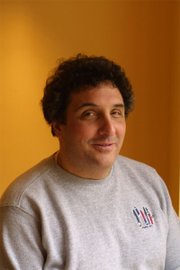 Potomac — I last celebrated my father's day six years ago, in 2006. Six months later, in early December, he finally succumbed to that which had been ailing him: old age for sure, the effects of two strokes for certain and the realization that it was, as we like to say in our family: "Enough already." Pain and suffering is all it's anticipated to be, so when my father died in his sleep that early Saturday morning in late fall, 2006, it was a blessing; one occasionally in disguise, but one nonetheless. He wasn't ever getting better, he was already in hospice care, it was time. He was 87.
"Barnet, Barnet, Barnet," I would call out to my father in my best from-Boston accent when I would first enter the residence my parents maintained in Leisure World in Silver Spring.
"Yo! Yo! Yo!," my father would respond, specifically, as he had for as long as I could remember. (I don't think my generation uses the word/expression "Yo" to account for one's presence.) "Barnet," his adolescent given name; "Benet," on his birth certificate; "Barry" (later in life) to his friends, family and business associates; and "Beez," a nickname given to him by a fellow member of a knothole gang in the 1920s/30s (who said everybody had to have a nickname), to me; the name that I respectfully called him my entire life. My brother, Richard and I miss him very much, as we do our mother, Celia, who died nearly two years later, also in early December.
Our parents, and for the focus of this column, our father, was devoted to his children and family. We were very fortunate. Let me try to explain.
My father was the father who, for years, every morning, drove about a dozen Elementary School kids to school, crammed into his Oldsmobile. If I heard the word "laps," once, I heard it a thousand times, maybe literally. My father was the father always present at Little League games, sitting in the grandstand rooting for his son and his son's team (the Little League Red Sox as it happened to be) and behaving. Never once did he engage or enrage an umpire or another team's coach. He did, however, often come down behind the bench where I would be sitting between innings to offer fatherly advice – and encouragement about my pitching: "Don't drag your right leg." "Take a deep breath between pitches." And of course, the constant throughout my entire life: "Stop biting your nails!" My father was the father who played catch with his son – at every opportunity, and on weekends would drive me to the local Junior High School where he would stand me up against the baseball backstop and hit me grounders, fly balls and pop-ups – for practice. My father was the father who took his kids to baseball games at Fenway Park and basketball games at the old Boston Garden. The Red Sox games would usually be on Saturday afternoons (or Sundays, depending on the time of year) so as not to interfere with my mother's standing hair appointment at her Beauty Salon. The Celtics game was typically the first Sunday afternoon game of the season (my father owned a jewelry store in downtown Boston and other than July and August, only had Sundays off), usually against the Philadelphia 76ers, which meant Bill Russell against Wilt Chamberlain; it didn't get any better than that. My father was the father who, after driving his son (yours truly) to my driver's license driving test (which I passed the first time), had me drive him to the subway just so I could drive myself to school that very first day and have a car – without waiting one extra day, despite the obvious inconvenience to him and my mother (there was only one car in the family).
My father was the most positive, supportive, encouraging and enthusiastic person I knew. His influence on his children while he was alive is only surpassed by his continuing influence on us after his death. He lives on in our hearts and minds despite his absence, and so we honor him, especially on Father's day. He is gone, but certainly not forgotten. He was one-of-a-kind, and his two children were lucky he lived as long as he did.
Happy Father's Day, Beez. I'll see you at the cemetery on Sunday.
Kenny Lourie is an Advertising Representative for The Potomac Almanac and The Connection Newspapers.