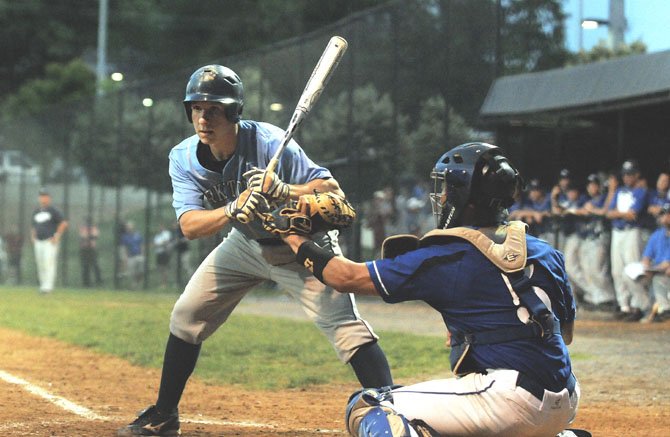 Arlington — Three days after pitching the Yorktown baseball team to a National District championship, John Yoest entered a regional first-round contest against West Potomac with the responsibility of getting the Patriots out of a seventh-inning jam. With two outs, the tying run at the plate and the season on the line, Yoest looked toward home plate and smiled. Two pitches later, his teammates followed suit.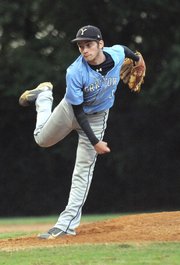 Yoest struck out West Potomac's 3-4-5 hitters, including a pair of first-team all-region selections, and Yorktown held on for a 7-4 victory on May 25 at Greenbrier Park. Yoest, the National District Pitcher of the Year and a second-team all-region selection, entered the game with two on, none out and a three-run lead in the seventh inning. The junior right-hander proceeded to strike out West Potomac's Sean Trenchard, Jayme Murray and Matt Hrin in 14 pitches. Trenchard earned first-team all-region accolades as a third baseman and Murray made the team as a utility player.
After throwing a first-pitch strike to Hrin, Yoest smiled before his next delivery. Two pitches later, the Patriots were on to the quarterfinals.
"I felt a real divine calm on the mound," Yoest said. "It was really silent. I think it was a really surreal moment. There's nothing I love more than pitching. Sometimes it shows, I guess."
Despite Yoest having thrown 104 pitches during a three-hit shutout of Stuart in the district championship game on May 22, Yorktown head coach Mike Ruck said he was confident his ace would succeed.
"Yoest is one of the best pitchers in the region," Ruck said. "He's capable of big things anytime he's out there. We give him the ball there because we expect him to be successful. That's a good-hitting team, that's a team that's used to seeing quality pitching and Yoest is going on only a couple days rest because he threw versus Stuart in the championship. So for him to come back and to throw that quality outing, that speaks volumes of his development as a pitcher."
Yoest's door-slamming effort received praise from West Potomac head coach Jim Sullivan.
"As much as he threw on [Tuesday], I was impressed that he came in and he did the job," Sullivan said. "Three strikeouts of my 3-4-5 hitters — two all-region first-teamers and Matt is hitting .400. I couldn't have had it set up any better."
"[John] Yoest is one of the best pitchers in the region. He's capable of big things anytime he's out there."

— Yorktown baseball coach Mike Ruck
While Yoest picked up the save, starting pitcher Matt Lowen earned the victory. The right-hander surrendered eight hits and four runs — three earned — in six-plus innings while walking three and striking out six. Lowen ran into trouble in the first inning, when he allowed a three-run double off the right-field wall to West Potomac's Paul McClure, giving the Wolverines an early 3-0 advantage. For the next five-plus innings, however, Lowen allowed four hits and no earned runs.
"I knew we were going to score runs," Lowen said. "We've been doing that all year. I had faith in the team. I wasn't worried about the runs early. I wasn't worried at all. I expected to give up some runs. They're a good team."
Lowen said his change up was working well as he attempted to keep the Wolverine lineup off balance.
"We gave the ball to Lowen knowing that he would be effective," Ruck said. "Lowen is a student of the game. We tried to go after [West Potomac], pitching them backwards at times, and Lowen was great. In that first inning … he didn't try doing too much. He's a smart enough kid where he realizes he can trust his stuff, trust his command and the game plan will work out. To his credit, he stayed within himself and pitched an outstanding game."
Offensively, Yorktown started to chip away in the fourth inning, when a two-run single by first baseman C.J. Herold cut the West Potomac lead to 3-2. The Wolverines added a run in the top of the fifth, but the Patriots responded with three in the bottom half and led for the remainder of the contest. Designated hitter Alex Nibert drove in a run when he was hit by a pitch with the bases loaded and third baseman Ben Criswell put Yorktown ahead to stay with a two-run single.
Bennett Nagurka's RBI double and Daniel Whitaker's run-scoring single in the sixth provided insurance for the Patriots.
Yorktown scored seven runs with just five hits thanks to eight walks and three hit-batters from West Potomac pitchers.
"Too many free passes," Sullivan said. "The first five runs they scored, we put the guys on base and then they had some timely hits. They're a solid team; we knew that coming in. You don't win 20 games with smoke and mirrors regardless of what district you're in."
Yorktown advanced to the regional quarterfinals, where the Patriots ended their season with an 8-5 loss to Westfield at Lake Braddock Secondary School.
Yorktown catcher Red Dowdell and outfielder Whitaker were named first-team all-region. Shortstop Will Young earned second-team all-region honors. Dowdell was also named National District Player of the Year.