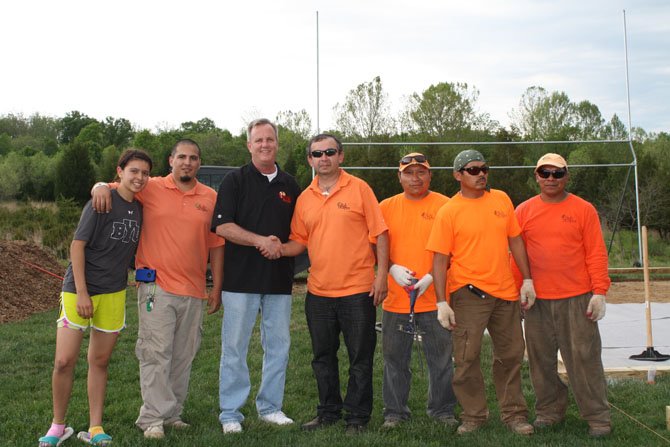 Centreville — Children may now play in a brand-new playground at the SYA youth sports complex, "Fields of Dreams," off Bull Run Post Office Road in Centreville. It was built by RulyScapes Inc. of Centreville, Denison Landscaping, JK Enterprises and John Deere Landscapes, which all sponsored a recent National Hispanic Landscape Alliance National Day of Service there.
The nonprofit SYA is comprised of youth athletes, coaches, parents, grandparents and young siblings, many of whom are Hispanics. And NHLA members, RulyScapes and Denison Landscaping, took the lead in donating materials and organizing the project.
They each contributed more than $3,000 in materials, plus labor, to construct a 40x60-foot playground with swings and slides, plus low ground-level activities, such as a balance beam, tunnel and see-saw to provide entertainment for children of various ages.
In addition, John Deer Landscapes contributed 260 50-pound bags of lime, valued at $1,425, and JK Enterprises donated $462 worth of wood chips. Total value of all the contribution was more than $8,000. Besides helping SYA provide another recreational outlet for area children, NHLA also participated to draw attention to the environmental and health benefits of the roughly seven acres of natural-grass fields.

"We feel very proud that we could have accomplished this project in such a short period of time," said RulyScapes General Manager Raul Berrios. "We are grateful to the other landscape companies that have supported this event to make it happen for the benefit of the youth in our area."