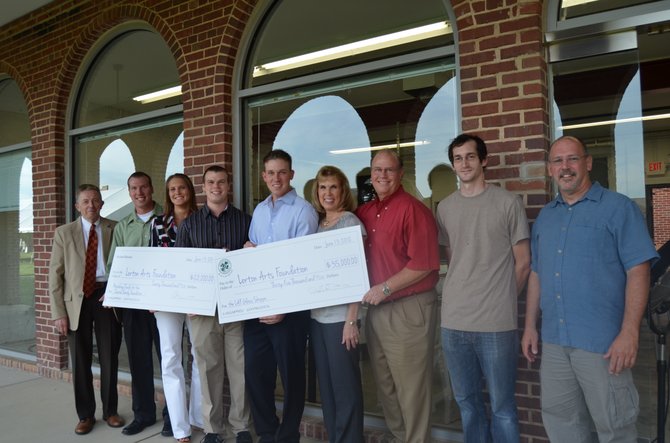 The Workhouse Arts Center received a $55,000 donation on Wednesday, June 13 to improve and grow its new glass hot shop. The only glass blowing studio in Northern Virginia opened at the Workhouse in October of 2011 under the leadership of Rick Sherbert, Director of Glass. The studio and program have been wildly successful. On Wednesday, Ron Devine, of the Devine Family Foundation, presented Lorton Arts Foundation President & CEO John Mason with a $35,000 check from the Devine Family Foundation and a $20,000 matching donation from Richard Hausler, Chairman of the Lorton Arts Foundation Board.
Thanks to these generous donations, additions at the glass house will include a new glass blowing work station, improved student and classroom facilities, and other basic infrastructure improvements.
The uniqueness of the Workhouse glass program is both its location in Northern Virginia and the variety of glass disciplines in one arts center.
In attendance at the glass blowing studio Wednesday evening presentation were: The Devine Family - Ron and Brenda Devine, Ben and Jill Devine, Randy Devine, Chris Devine; John Mason, CEO; artists Rick Sherbert, Ian Kessler-Gowell and several other members of the Workhouse Glass Program. The Workhouse Glass Program had a special glass blowing presentation and will present the Devine Family Foundation with the piece made that evening.