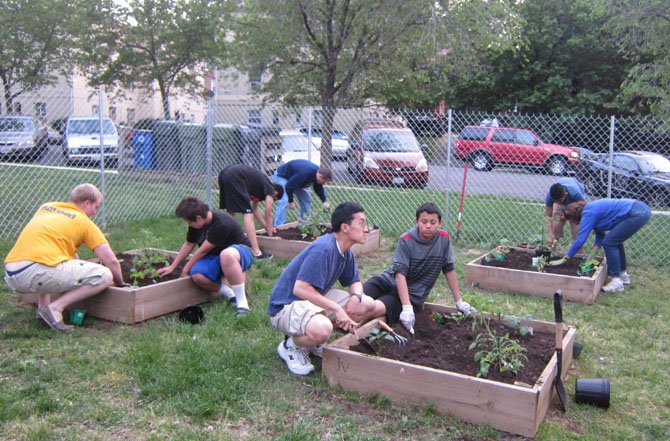 Alexandria — Alexandria's Hunting Creek Garden Club, a nonprofit organization dedicated to fostering a love and knowledge of gardening, encouraging restoration and conservation, as well as promoting education and civic beautification, is providing funding and gardening expertise for two beautification and gardening education projects that are already benefiting those served by Community Lodgings, a nonprofit organization that provides transitional housing for homeless and low income families.

Phase One of Hunting Creek's project, which got underway this spring, involves provision of "Kitchen Garden" plants for eight existing 4'x4' raised garden beds on the grounds of the Fifer Family Learning Center on Notabene Drive in Arlandria.

Members of Hunting Creek Garden Club met with those involved in Community Lodgings' Middle School Boys Mentoring Program to provide gardening education and enrichment. The project also impacts children enrolled in Community Lodgings after-school program, which currently serves 24 elementary school children, 24 middle school and eight high school youth. Club members taught the boys and their FBI mentors the importance of enriching the soil and garden beds with organic matter in order to provide fertile ground in which the plantings can grow.

After surveying the boys to discern the types of vegetables, fruits and herbs they would like to grow, Garden Club members purchased a myriad of plants including, tomatoes, onions, peppers, cilantro, strawberries, watermelon, squash, potatoes and pumpkin plants.

Each youth, in conjunction with Community Lodgings Learning Center, has been assigned a bed and is responsible for keeping the beds watered and weeded during the summer months. As the plants bear fruit, the youth will harvest and take the produce home for a "farm to table" experience. HCGC members are providing volunteer assistance for summer care and maintenance as needed.

The Kitchen Gardens will teach youth how to grow their own food and provide insight into the value of healthy eating. Part of the educational component includes the value of organic gardening. The project is also being supplemented by an $800 Mini-Grant Program for Community Gardens and Nutrition Classes coordinated by the Alexandria Health Department in association with the Alexandria Childhood Obesity Action Network to emphasize the importance of healthy eating and nutrition.

Phase Two of Hunting Creek's project will provide a landscape design plan for the front of the Community Lodgings Learning Center building. The plan will be implemented this fall in stages with HCGC supplying the plantings and assisting with oversight of the project. Community Lodgings will provide installation support. A majority of the specified plantings will be native plants, which will allow the community to experience the chain of nature from insects such as bees and butterflies to birds and other fauna and flora.
Community Lodgings' current buildings have little exterior landscaping enhancement. This project will provide a useable, appropriate green space that will allow residents to enjoy the space more fully. The design as currently envisioned, would include space for bicycles, circulation through the garden, outdoor seating, additional shade and native plantings.

The beautification of the Notabene building will impact the 14 homeless families in transitional housing, as well as the entire community, especially those living in Arlandria who benefit from Community Lodgings' services. Local residents receive help from Community Lodgings programs more than 1,000 times a year.
Community Lodgings' mission is to lift families from homelessness and instability to independence and self-sufficiency through Transitional and Affordable Housing, and Youth & Adult Education Programs held at our Fifer Family Learning Center.