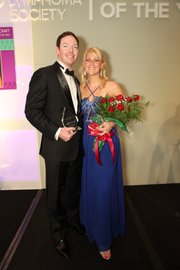 Tommy Cleaver, CBRE executive, and Amanda Tiede, a Vice President at Cassidy Turley, were named the National Capital Area Chapter's 2012 Man & Woman of the Year at Saturday's Grand Finale Gala at The Ritz-Carlton in Washington, D.C. The 21st Anniversary campaign featured 18 candidates who collectively raised over $1,144,000 - the most ever raised in the history of this campaign across all of The Leukemia & Lymphoma Society's (LLS) chapters.
The 2012 Man of the Year, Tommy Cleaver, of Washington, D.C. was diagnosed with chronic myelogenous leukemia (CML) ten years ago while attending Middlebury College. Because of his body's tremendous response to Gleevec, a then-recently approved oral chemotherapy drug, he was able to lead a relatively normal life and keep his diagnosis close, telling only his family and dearest friends. He voluntarily revealed his experience during this campaign explaining, "I realize that I have been blessed with the opportunity to share my story. I want to do everything that I can to help provide that opportunity to others." Cleaver continued, "With the help of The Leukemia & Lymphoma Society (LLS), I have found the perfect way to do so."
Cleaver, a rising-star at CBRE, is now living proof of the difference that can be made through fundraising initiatives and research advancements in science and medicine. First runner-up Michael Effron, of Arlington, and second runner-up Gene Thomas, of Washington, D.C. were also celebrated for their selfless and immense efforts.
The 2012 Woman of the Year, Amanda Tiede, of Vienna, raised more than double her initial goal with the help of a committee of dedicated leaders and the region's high-powered CEOs. After accepting the nomination in honor of James Madison University classmate Patrick Kelly, who lost a seven-year battle with lymphoma brain cancer in January, Amanda rallied the support of her friends, family and the business community to create an enormous impact on blood cancer research.
"We came into this campaign with a challenging goal," said Tiede. "Our campaign team was overwhelmed by the support we received and what we were able to achieve. We never imagined we would reach these heights, and we could not have without the support of our influential networks."
Tiede also drew motivation from Isaac Duck and Sophia Becraft, the 2012 Boy & Girl of the Year, and used them as a constant reminder of those who count their blessings daily because of the progress that has come from fundraising and research. First runner-up Meghan Haven-Buske, of Bethesda, Md., and Erin Kirkpatrick, of Arlington, also raised remarkable funds for the mission of LLS: to find a cure for leukemia, lymphoma, Hodgkin's disease and myeloma, and to improve the quality of life of patients and their families