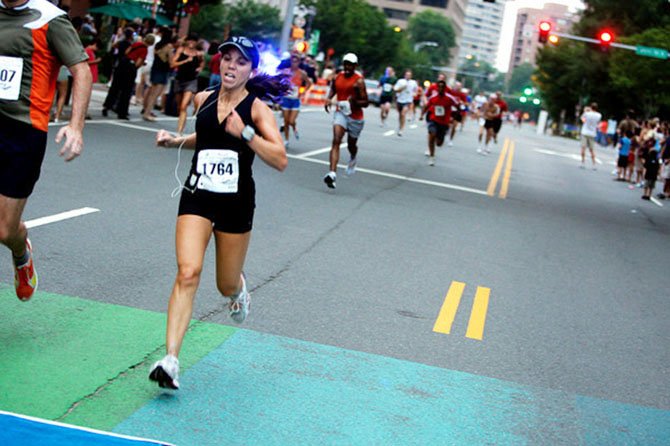 Even with the increasingly difficult qualifying standards for the Boston Marathon, lifelong Arlington resident Abbe Burdetsky Steel is preparing to run the race as part of the 23rd annual Dana-Farber Marathon Challenge.
The goal of this challenge is to raise $4.8 million for the Claudia Adams Barr Program, which is part of the Innovative Basic Cancer Research at Dana-Farber Cancer Institute in Boston.
"This is our largest goal and, honestly, I don't know whether or not we'll raise it," said Jan Ross, director of running programs at Dana-Farber Cancer Institute. "There is still so much fundraising to go. We are going along at a strong pace, so we'll have a better idea in another three months. The fundraising goes on beyond the marathon through our entire fiscal year, which is technically in the end of September. It's kind of a 'stay tuned' situation. We always announce grand total in October."
Steel, whose goal is to raise $9,800 for the Challenge, said that all of the money she raises will go to Barr program, which is partly why she applied to be a member of the DFMC team.
"I've been running marathons for a long time, " Steel said. "I ran Boston before, a few years ago. This time, I decided to run and wanted to find a charity, so I was looking at the different charities with associated with Boston."
Steel submitted an application to run with the DFMC because she said the organization has a "huge presence at the marathon and the quality of the Barr program is really innovative research in the area of cancer."
She added that she is honored to be running on behalf of one of top cancer centers in the U.S.
"They are doing great things there," she said.
When Steel last ran Boston, she missed re-qualifying by 18 seconds, so she had to apply for an Invitational spot on the DFMC, which means her entry into the Boston Marathon was dependent upon her commitment to raise at least $4,000 for the charity.
"There are about 500 people on the team with invitational entries and there are about 25 to 30 people who are own-entry members," Ross said. "Typically the own-entry members they are time qualifiers, but some of them may have a race entry with some other affiliation. But they are people who already have a race entry."
All members go through the same written application process, where there are two to three applications for every spot.
"We ask people to tell us why they are interested in why they are running the marathon with Dana-Farber and about their fundraising goals," Ross said. "It's a series of straight forward questions and an open-ended question."
Steel is running in honor of another former Arlington resident, Nancy Taylor, who died of breast cancer in 2003. Taylor was also a widow due to the Sept. 11, 2001 attack at the Pentagon.
"One of the things Dana Farber wants to know is whether or not you're running in honor of anyone you know," Steel said. "This particular race I'm running in honor of my friend Nancy Taylor, whose husband died in the Pentagon in 9/11 and two years later she lost her battle to breast cancer. I'm running in memory of her so [it's] an important race for me. "
Steel said she has lost many friends to cancer, but she'll be devoting each of the 26.2 miles specifically to Taylor because Taylor was also a local and was born in New England.
Steel said her first fundraising effort was sending out an e-mail to her family and friends discussing the Dana-Farber Marathon Challenge and its goals. While she said the e-mail was successful, she has since has become more creative with her fundraising efforts.
"My two kids had a hot chocolate and brownies stand a couple weeks ago and we raised money that way," she said.

On Sunday, March 4, from noon until 3 p.m., she and her kids will be at the Madison Community Center Dog Park and Playground selling homemade dog biscuits for the charity.
Besides fundraising, Steel said the process of training for this marathon has involved a lot of early morning runs. With children and a job in clinical research, she is no stranger to logging more than 20 miles in the mornings before work.
She said it is worth it and that she is excited to run the Boston Marathon on April 15.
"It's the most exciting race I've ever run because of the support from the crowds. Every moment of the 26.2 miles, people are lined up on the street you cheering you on, and that really makes all the difference."
According to Ross, Steel and the rest of the DFMC team will be making a huge difference to the Dana-Foster Cancer Institute.
"The vast majority of the funding for the Barr program comes from DFMC," Ross said. "The Barr program is essentially supported by the DFMC, so the team members are all amazing. We get to know all of the team at least on paper and we as a staff pay attention to what each team member shares with us as their motivation. They all get individual attention from the office in some way, shape or form. We think everyone on the team comes with some sort of personal motivation. It may come really close from home or a little bit removed, but the runners are all very inspired to take this on."
To donate to Abbe Steel's efforts, visit her web page at http://www.runDFMC.org/2012/abbes.