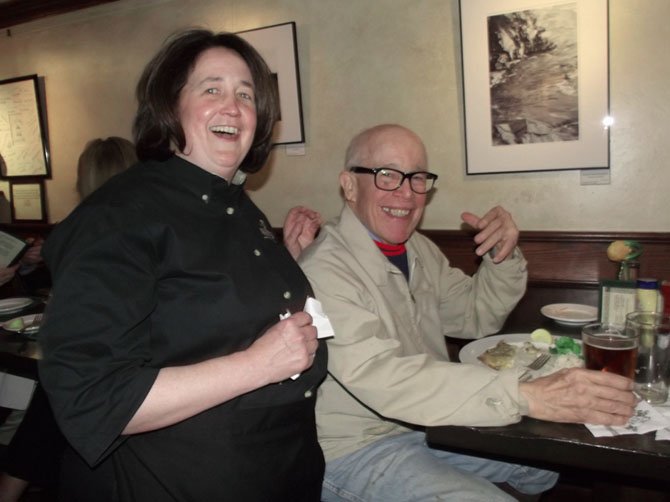 When Martha Alden started working as a waitress at The Old Brogue Irish Pub in Great Falls, the area was still considered a rural D.C. suburb. Through her 23 years waiting tables at The Brogue, Alden has seen the village change from a rural middle-class hamlet into a place known for mansions and personal wealth. One thing hasn't changed; the way Alden treats her customers.
"I have really loved it over the years. I've met some wonderful people and made friends. I wasn't just waiting on people, these are friends. It's like waiting on your family. I had a paid social life," said Alden.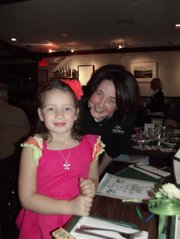 It's clearly a mutual relationship. On Thursday, March 1, Alden worked her last shift at the restaurant and had a packed crowd, many bearing gifts, and a waiting list 40 minutes long to get a seat in her section. Customers had her pose for pictures and repeatedly asked her to stay.
"We are really going to miss her. Everyone's going to miss her. She's someone special you can count on to know who you are and treat you like a friend. It won't be the same without her," said long time customer Pete MacVay.
"For those that embrace The Brogue phenomenon and embrace what we do, if you like what we do, they really like it. Martha is a part of it. She's part of the reason this place can't be duplicated. It's because people like Martha can't be replicated," said owner Mike Kearney.
"She will always be remembered. She has left a lasting impression here," Kearney said.
" I love waiting on tables. I really love it, always have," said Alden. "Am I the only one in the world," she asks jokingly.
"My first week, I knew I was going to be here the rest of my life," said Alden. "But, now is the time to go. I'm working four jobs so I decided I want to take the plunge and shake things up a little," said Alden.


IN ADDITION TO WAITING tables at The Brogue, she has built her own business house and pet sitting and taking care of children. She is also one of the sole east coast marketers of DeMarle, a French baking supply company that makes Silpat, and does cooking workshops. "I love baking and I'm always bringing in little treats to customers. I never forget a birthday or a special occasion for a customer," Alden said. Kearney agreed, saying that her uncanny memory and attention to customers is one of the features that have made her a unique waitress. "I'm pretty busy but it's time. The owner is very supportive," said Alden. Kearney adds, "Martha has built her own little enterprise over the years out of the friends and customers she's waited on." Judging by the crowds and well wishers who turned out to celebrate Alden's shift, she has made quite an impact. When Alden posted on Facebook that last Thursday would be her final day, hundreds of replies were posted and her original message was forwarded all over the world. Rachael O'Reilly, in Ireland, said, "I never thought it would happen. It's an end of an era." Alden said, "Ever since I posted it the phones have been off the hook but now I can do more things with my other businesses because I'll have more time." "I think I will miss waiting on customers and I love the people who come into The Brogue. For me, as much as it changes, it remains the same. It was never about the money, although I've made a great living there," said Alden. "I definitely consider this retiring from waitressing. I'd never wait tables anywhere else. It was a very hard decision and I'll miss it," said Alden.


ONE THING she won't miss is the crazy St. Patrick's Day celebration at The Brogue which pulls in people from all over the metropolitan area and has packed crowds each year. "I carefully gave my notice so I didn't have to do that again," laughs Alden. "Like I said, it's about the people, not the money and that day I wouldn't get to see any of my favorites."