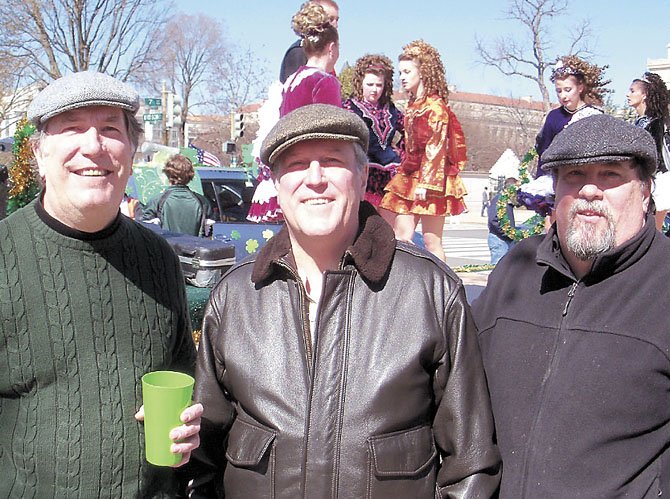 For a couple weeks each March, "Irish musicians" sprout like crabgrass. Many assume an imperfect brogue to hide bluegrass or country western underpinnings. It is not held against them, though.
Caught up in the spirit of St. Patrick, they do the best they can and listeners appreciate a good try. On the other hand, some have earned the title "Irish musician" through years of practice in this special genre and on a circuit of local music venues. People easily tell the difference.
"A family that plays together, stays together," the saying goes. So it is with the brothers
Walthall — Tim and Jeff and James — also known as The Flying Cows of Ventry. Without question, they are "Irish musicians."
James Walthall, youngest of the trio, was first to take an interest in music. The family noticed when he hand-made a guitar. Twin brother Jeff Walthall was attracted to the drums but, when James Walthall moved on to the fiddle, he moved on to the guitar. The eldest by two years, Tim Walthall, now residing in Arlington, arrived last and in the role of principal vocalist, while doubling with the banjo. 
A musical foundation was laid within the family, particularly as the aunt from Cincinnati led sing-alongs around the piano in the McLean home. Irish tunes, certainly, but mixed with old ballads and folk songs when everyone knew the words. The brothers developed their skills beginning with the "garage band" stage playing together and with others of their age. An invitation from some "older guys" at Fairfax County's Marshall High School was the first "pay for play." Slowly stage sense was garnered at weddings, anniversaries, office events and appearances in local restaurants. After graduating from McLean High School, all went to Virginia Commonwealth University where they became known on the college circuit and across the Richmond area. 
Well into their 20s, the Walthalls performed whatever type of song appealed to their audience. They had begun with rock and roll, moved through surfer sounds into country western and arrived at rockabilly, without overlooking ballads from various sources. Irish music was there, but only incidentally. Around 1994 that changed.
VOCALIST Tim Walthall discovered a personal interest in singing Irish songs, and the other two went along. For one performance the program was heavily laden with such numbers and audience reaction was enthusiastic. "We figured that we had found something," said Jeff Walthall. A year or so later, Irish music exploded thanks to Riverdance and with it came more performance venues in the form of Irish pubs, restaurants and song-and-dance festivals.
"We caught the Irish wave as it broke and happily have been riding it ever since," James Walthall said.
Instrumental skills honed over the years were adaptable to the new sound. Playfully, a hint of brogue was developed for the vocals. The trio found much to love in Irish music and playing it came naturally. They also could see that much more needed to be learned. They were no longer once-a-year-St.-Patrick's-Day players. They were in competition with growing numbers of musicians attracted to the Irish scene. Thus began visits to Ireland to absorb the sounds in the cultural settings of the source.
Doolin in County Clare and the Dingle Peninsula in County Kerry are known around the world for festivals and gatherings and schools of Irish musicians. It was on the latter the brothers found themselves a name. Ventry is a small village some few miles east of Dingle town. A manager of the national radio network (the Irish equivalent of PBS) heard the brothers play and invited them to their first radio broadcast. On route to the station early one morning, they stopped the automobile for a breath of air overlooking the village below. Banter about the passing farms and animals had led these city boys into silliness leading up to the expression "flying cows." On the spot, they became "The Flying Cows of Ventry."
INDIVIDUAL PATHS divided after graduation from VCU. Tim Walthall went on to Northeastern University School of Law in Boston and is a trial attorney with the U. S. Department of Justice, Washington, D.C. James Walthall continued at VCU and is a doctor of optometry with offices in Annandale. Jeff Walthall alone pursues a musical career, performing solo and with a changing cast of friends in small groups. While able to work with all types of music, Jeff Walthall admits the favorite kind remains Irish, especially when on stage with his part-time musician brothers.
The Auld Shebeen in Fairfax prides itself on offering "Traditional Irish" music. Booking The Flying Cows of Ventry as centerpiece for this coming weekend's festivities in honor of St. Patrick leaves nothing more to say about the group's reputation. Dublin native Michael "Mick" Boyle is the man in charge. "I cannot judge if the Cows are the best Irish musical group in the area, but I can judge that they are one of the best Irish musical groups for the area," he said. "They offer a fine blend of well-played older traditional tunes and the songs that our customers want to hear. Friendly with the customers, they always treat their audience with respect," he said.
Know This
The Auld Shebeen, Old Chain Bridge Road at North Street, Fairfax City, is one block from the historic courthouse. See HYPERLINK "http://www.auldshebeenva.com/"www.auldshebeenva.com. Call 703-293-9600.
Management reports that reservations for this year's St. Patrick's Day celebration are fully booked. However, The Flying Cows of Ventry will perform the preceding evening, Friday, March 16. The group can be heard year-round in monthly weekend appearances.
Recordings are not available at retail in the area, but can be found in HYPERLINK "http://www.amazon.com/"www.amazon.com and HYPERLINK "http://www.cdbaby.com/"www.cdbaby.com.