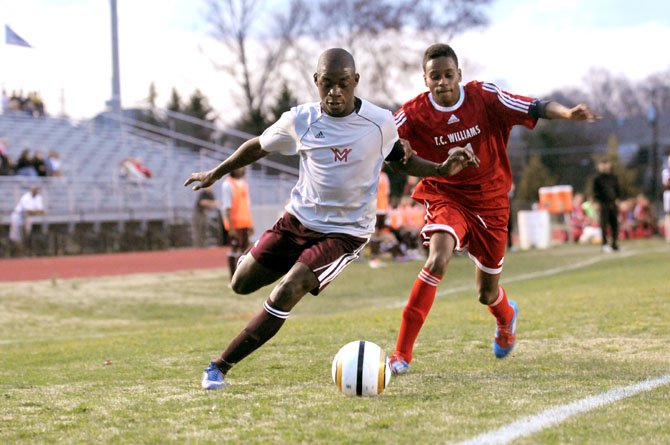 Mount Vernon — Amardo Oakley served as motivation in spirit to the Mount Vernon boys' soccer team during its 2011 season opener. Oakley, then a junior midfielder and team captain, suffered a broken leg during a preseason scrimmage and would miss the entire campaign. While Oakley recovered in the hospital, the Majors brought his jersey along to West Potomac and defeated the rival Wolverines — Mount Vernon's first step toward what would be a 14-3 final record.
One year later, a healthy Oakley is back to motivate his teammates in the flesh.
Now a senior, Oakley is Mount Vernon's lone captain and unquestioned leader. On March 13, he played in his first game for the Majors in two years as they hosted T.C. Williams. The game ended in a 1-1 tie, but Oakley was thriving in his leadership role, including confronting the Titans about potentially injuring one of his teammates.
"He's the one voice everybody listens to," head coach Robert Garza said. "…They all believe in him. He still is their inspiration."
During a preseason scrimmage in early March, Oakley was involved in a play similar to the one which led to a broken leg last year. Garza said Oakley hustled through the play with no hesitation, confirming he had returned mentally, as well as physically.
"It was painful," Oakley said of missing his junior season. "There were games I wish I could be in to help my team, not only to win but to be there for them. … The team helped me get through it and I look forward to the season. … When I broke my leg, it gave me a reality hit. I've got to go out there and I've got to give it my all every time because you never know what may happen."
"When I broke my leg, it gave me a reality hit. I've got to go out there and I've got to give it my all every time because you never know what may happen."

— Mount Vernon senior Amardo Oakley
While Oakley was pleased to be on the field Tuesday, the outcome against T.C. Williams was less than desirable. Mount Vernon went undefeated on its home field in 2011. While the Majors didn't lose to the Titans, starting a season in which they have state tournament aspirations with a home tie equated to what Oakley called a "wake-up call."
"I think we can go really far," Oakley said. "We've got a great team. We have a lot of chemistry together, we play a lot together and I think we can go really far if we just put our minds to it."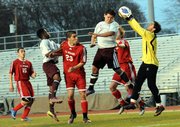 Junior forward Simond Kargbo scored Mount Vernon's lone goal, firing a shot over the goalkeeper's head from about 30 yards out midway through the second half. Kargbo was the National District Player of the Year in 2011 and Garza has high expectations for No. 10.
Junior forwards Erik Rodriguez, a second-team all-district selection last season, and Foday Sillah, a transfer from Hylton High School, will also play key roles in the Mount Vernon offense. Senior Reymi Rodriguez will patrol the midfield, and seniors Damaro DaCosta, Bryan Castellon and junior Cedric Ekoue (second-team all-region, first-team all-district) will be key contributors on defense. Junior goalkeeper Lucas Belanger was an all-state selection last year.
Junior forward Rahim Dorsey-Costa, a transfer, and junior midfielder Aldaid Rodriguez will provide depth.
Mount Vernon finished district runner-up to Washington-Lee last season, losing 2-0 to the Generals during the regular season and 6-0 in the tournament final. After beating Robinson in the opening round of the regional tournament, the Majors lost to Langley in the quarterfinals.
Mount Vernon will host Wakefield on March 27.