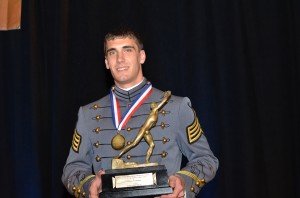 Army standout and 2008 Bishop Ireton graduate Andrew Rodriguez was named the winner of the 2011 James E. Sullivan Award in a ceremony held March 20 at the New York Athletic Club.
"It's a great day to be a Cardinal," said Bishop Ireton Athletic Director Bill Simmons. "When I heard he was in the running, I knew he was going to win. I'd like to meet the guy that has a better resume than Andrew Rodriguez. That is the only household in the world with a 4-star general playing second fiddle to a son," he added with a laugh.
Presented by the Amateur Athletic Union, the Alexandria native was honored as the nation's outstanding amateur athlete. The prestigious award is based on character, leadership and sportsmanship. Notable recipients include Mark Spitz, Jackie Joyner-Kersee, Florence Joyner, Peyton Manning, Michael Phelps, J.J. Redick, Tim Tebow and Shawn Johnson.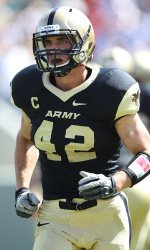 Joined by Army head football coach Rich Ellerson and numerous family members, Rodriguez, son of Gen. David Rodriguez, Commanding General, U.S. Army Forces Command, dedicated the award to his family and U.S servicemen and women around the world.
"It is an incredible honor to win this award," said Rodriguez, who will begin infantry training in Georgia following graduation from West Point this spring. His first duty station will be in Vicenza, Italy.
Rodriguez is only the sixth football player to win the Sullivan Award in its 82-year history, and only the second Army football player to win the award. Felix Blanchard, also from Army, was the first football player to win the Sullivan Award in 1945.
"The thing that makes Andrew so special is that he is truly a wonderful kid," Simmons said. "He always had time for everybody and made everyone feel as if they were his friend."
In addition to his athletic achievements, Rodriguez maintained a 4.14 GPA as a mechanical engineering major and ranks third in a class of 1,052 cadets. Rodriguez is Army's first Campbell Trophy winner and the school's 14th National Football Foundation's National Scholar-Athlete. He joins 1990 Campbell Trophy winner Chris Howard (Air Force) as the only winners representing a service academy.
"What a great honor and a great family," Simmons said. "We have always been proud of Andrew Rodriguez and we are glad everyone else is finding out what a great young man he really is."