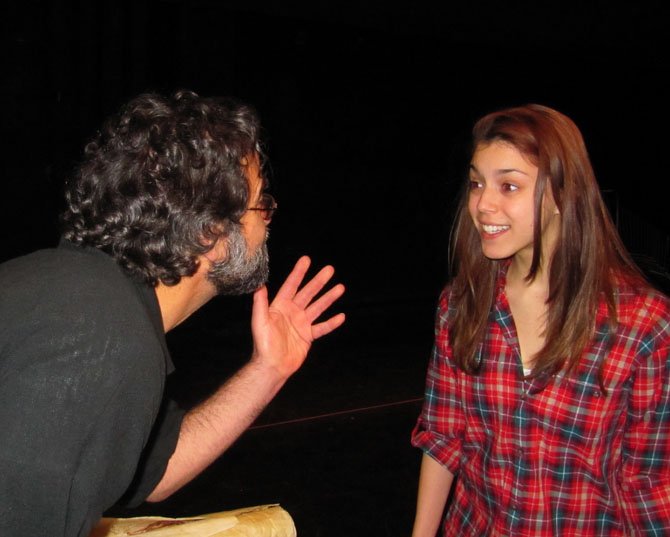 Under its new banner, Theater at Mason is presenting "The Life of Galileo" by Bertolt Brecht. It will be the initial production of a fresh initiative to provide emerging artists at George Mason University with a training ground for work in stage and screen. There will be an emphasis on closely working with area professional creative artists.
Theater at Mason will provide an innovative way of teaching, according to Ken Elston, Mason Department of Theater Chair. "Working professional, mentoring the emerging artist, empowering students of theater to create, while modeling the best of professional processes and ethics."
"The LIfe of Galileo" was written and revised in the 1930s and 1940s when fascism was on the rise and then defeated. The drama is Brecht's historical dramatization of Galileo's 17th century trials. Galileo was tried because of his radical notion that "the sun is still, the earth is on the move." His use of the then new-fangled telescope helped him reach his conclusion.
At a recent rehearsal, "focusing on the next generation of working theater practitioners," Director Rick Davis led his cast of over 20 through warm-up, verbal and physical exercises. He described the exercises as "chaotic but wonderful...within a cauldron of learning."
Davis discussed his "great desire to create magic with the play" as he guided the actors through the rehearsal process working on lines and blocking. When asked about "The Life of Galileo" he said, "it is a great classic work by an eminent playwright. A searching play about science and faith, about new ideas and entrenched beliefs. The debates within the play still resonate."
Where and When
"The Life of Galileo" presented by Theater at Mason, Harris Theater, George Mason University, Fairfax. Performances, March 20-April 7. Thursday, Friday, Saturday at 8 p.m., Saturday & Sunday, March 31-April 1 at 2 p.m. and Sunday, April 7. Tickets: $15-$20. cfa.gmu.edu or 888-945-2468.
Matthew Vaky, a professional actor and director stars as Galileo in the show. He also mentors the non-professional Mason actors, assisting them with the process of making live theater. He has over 60 shows to his credit with teaching experience at DC's Studio Theatre and GALA Hispanic Theatre. Vaky described his role as Galileo as "a great challenge, one to sink my teeth into." He said, "how wonderful it is to work with the talented emerging artists with their enormous energy and desires to succeed."
Brittany Martz is one of the Mason students, cast in the critical role of Galileo's daughter. To Martz, "the play is so inspiring with its message about looking forward to the future. And I was drawn to my character's sense of loyalty and how she gives of herself."