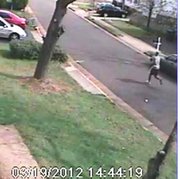 Woodson Student Is Assaulted
Fairfax County police are looking for the person who assaulted a 16-year-old girl Monday afternoon in the woods while she was walking home from Woodson High School. Police say she'd just entered a path at the end of Pickett Road, March 19, around 4 p.m., when a man approached her from behind, grabbed her neck, and assaulted her.
She struggled and was knocked to the ground and, after a brief altercation, the assailant fled. The girl screamed and ran to a nearby home for help. The suspect is described as between 18-27 years old, around 5 feet 8 inches and about 170 pounds. He had short black hair and wore a white T-shirt and shorts.
Anyone with information is asked to contact Crime solvers at 1-866-411-TIPS/8477, e-mail at www.fairfaxcrimesolvers.org or text "TIP187" plus a message to CRIMES/274637 or call police at 703-691-2131.
Park Authority to Meet
The Fairfax County Park Authority will meet Wednesday, March 28, at 7:30 p.m., in the Herrity Building, 12055 Government Center Parkway, Suite 900 in Fairfax. Call Judy Pedersen at 703-324-8662.
Animal Shelter Match-a-thon
March madness arrives at the Fairfax County Animal Shelter with a Mega Match-a-thon. Saturday, March 31, from 10 a.m.-5 p.m., and Sunday, April 1, from 11 a.m.-5 p.m., shelter dogs and cats will be available for adoption during a two-day adopt-a-thon. The shelter is at 4500 West Ox Road in Fairfax.
Adopters will receive $10 off the adoption fee for all cats, and all dogs and cats will receive a free spay/neuter prior to being adopted. Dog adoptions for the special event will cost $40 and cat adoptions will be $20 (after the discount). Available animals will be on view at the shelter; call 703-830-1100.