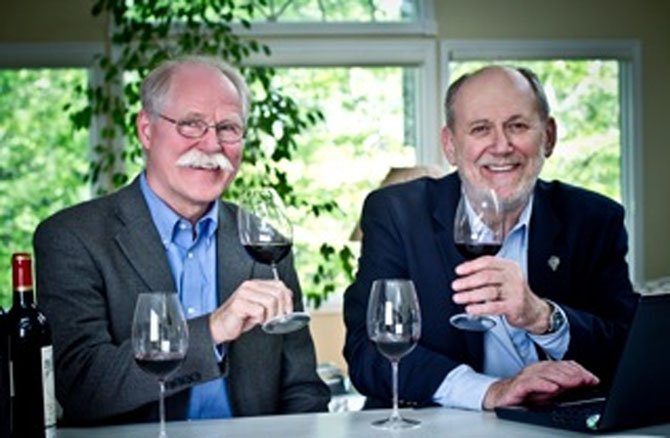 Over the past six months, the International Wine Review has tasted more than 200 Israeli wines in preparation of our Report #32 "The New Wines of Israel," to be published later this year. We're impressed with the high quality of Israeli premium wines and encourage our readers to try them. What better time to do that than Passover?
Although wine was produced in the land of Israel in Ancient times, Israel's modern wine industry dates back to the mid-19th century with the visit of Baron Edmond de Rothschild, owner of Bordeaux's Château Lafite Rothschild. It was Baron Rothschild who first introduced Bordeaux varieties into Israel and helped launch Carmel, the country's first and largest winery.
In the 20th century, Israel's wine industry received another boost, this time from Cornelius Gough of UC Davis who visited the Golan Heights. His advice led to the planting of grapes in the Golan Heights and to the establishment in 1993 of the Golan Heights Winery, producers of Yarden.
Today there are more than 220 wineries in operation throughout Israel from the Golan Heights to the Negev. A small group of 10 commercial wineries, including Carmel and the Golan Heights Winery, produce 75 percent of the country's wine and are widely distributed in the United States.
However, the majority of Israel's wineries are family-owned and operated boutique wineries in the Galilee, the Judean Hills and elsewhere who are producing small quantities of handcrafted wines.
Israel wines are being made by talented winemakers, many trained at UC Davis in California, others in France and Australia. Many are passionate and aim to produce wines that are uniquely Israeli, reflecting their special terroir. Israeli wineries produce a wide variety of single varietals and blends.
What Is a Kosher Wine?
Kosher wines follow much the same processes and techniques as most modern wineries employ. However, there are a series of kosher or kashrut requirements in both the vineyard and winery which must be adhered to and certified by the appropriate authorities/rabbi in order for a wine to be Kashrut or Kosher. In brief, to be considered Kosher, Sabbath-observant Jews must be involved in the entire winemaking process and all the equipment, tools and winemaking storage facilities must be kosher. A wine described as "kosher for Passover" must have been kept free from contact with grain, bread and dough.
Unlike ordinary kosher wines, mevushal wines can be handled and served by non-Jews. However, kashrut law stipulates that for a wine to be considered mevushal, it must be heated to 185° F. Whereas in ancient times, mevushal wines were boiled, these days they are flash pasteurized. Under this process, after the grapes are crushed, and before fermentation, the temperature of the liquid/must is rapidly raised for under a minute and then quickly "in a flash" are chilled down.
For more recommendations on Kosher wines from the International Wine Review, visit www.i-winereview.com.
Tasting Notes and Ratings
WHITE WINES
Gamla 2010 Chardonnay Reserve Galilee ($21) 89+
Aromatic and fragrant on the nose, the 2010 Chardonnay displays clean and crisp melon fruit, excellent acidity and freshness, and light toasted oak. It is beautifully balanced and flavorful with a pleasant easy drinking finish.
Golan Heights Winery Yarden 2009 Chardonnay Odem Vineyard Galilee ($22) 89
The Chardonnay Odem Vineyard exhibits a golden color with light tropical fruit flavors. Barrel fermented, it reveals good constraint in the use of oak. The palate is nice and creamy with notes of smoke and honeyed notes.
Flam 2010 Blanc Judean Hills ($35) 89
The 2010 Blanc is a blend of 67 percent Sauvignon Blanc and 33 percent Chardonnay. It offers fresh and fragrant aromas of melon and orchard fruit followed by crisp mouth filling fruit on the palate. It is un-oaked but has excellent texture and acidity that extends through to a delightful finish.
RED WINES
Psagot 2009 Cabernet Sauvignon Judean Hills ($30) 91
The 2009 Psagot exhibits an opaque ruby purple color and aromas of black currants, black cherry and toasted oak. Aged in French barriques for 13 months, it reveals rich and concentrated black fruit and earth flavors on the palate with spice notes. The wine is nicely balanced and structured with soft round tannins and a persistent finish. It is drinkable now but will be even better in a year or two and looks to have good aging potential.
Segal's 2009 Cabernet Sauvgnon Dishon Galilee ($20) 91
Dark ruby in color, this bottling exhibits peppery black and red fruit and big flavor concentration with good acidity and perfect balance. The wine is crushed in small lots and fermented on the skins for 34 days with gentle pump overs, followed by aging in French oak for 20 months. This is a big wine in need of time in bottle for a couple of years; it will drink well for 5-10 years.
Binyamina 2007 Merlot Reserve Galilee ($20) 91
This is a terrific Merlot offering ripe plum fruit and toasted oak aromas on the nose and a soft lush palate with a velvet texture, medium weight and perfect balance. The tannins are soft and round, and the finish is long and elegant. Merlot is certainly one of the top wines being produced by Binyamina in the Reserve series.
Tulip 2007 Mostly Shiraz Upper Galilee ($26) 91
The Tulip Shiraz is a delicious blend of Syrah (65 percent), Cabernet Sauvignon (35 percent), and Petit Verdot (5 percent). It has a spicy cedar and blackberry liqueur nose. Aged for 14 months in 50 percent French and 50 percent American oak, it offers a lovely palate of blackberry fruit, toast and ripe tannins. Beautifully put together.
Psagot 2009 Edom Judean Hills ($35) 92+
Edom is composed of 61 percent Cabernet Sauvignon, 17 percent Cabernet Franc, 15 percent Petit Verdot and 7 percent Merlot. Opaque ruby in color, it is aged for 14 months in French oak barrels, and has attractive aromas of pure black currant and red berry fruit, vanilla and sweet oak notes. On the attack it is soft with a velvet smooth mouth feel, and reveals an elegant and restrained palate with silky tannins. This is a gorgeous wine which tastes terrific now and will improve in the bottle.
Yatir 2008 Yatir Forest Judean Hills ($75) 92
The 2008 Forest is an opaque black ruby colored blend of 58 percent Cabernet Sauvignon, 32 percent Petit Verdot, 5 percent Merlot, 3 percent Malbec and 2 percent Cabernet Franc. Always a selection of age-worthy wines from the principal vineyard in the Forest at 900-1000 meters, it spends15 months in about 35 percent new French oak. Medium-bodied, it boasts dark cassis, black licorice and a floral bouquet. On the palate, it reveals structured flavors with lots of black fruit, but still a bit closed (compared to the 2007 at this stage of development) and needs 6-8 years of cellaring for peak drinking. Excellent promise.
Dalton Winery 2009 Zinfandel Upper Galilee ($25) 91
The 2009 Zinfandel from Dalton's Mount Meron Vineyard displays a medium ruby color and aromas of ripe plum and blackberry. It boasts a softly textured palate of ripe fruit, cedar, round tannins and a firm finish. A delicious wine.
By Mike Potashnik and Don Winkler
International Wine Review