More than 55 careers were represented Monday, March 19 at South Lakes High's Second Annual 10th Grade Career Expo. The careers represented ranged from electricians to Internet technology, said Elizabeth Vandenburg, South Lake's PTSA community outreach representative.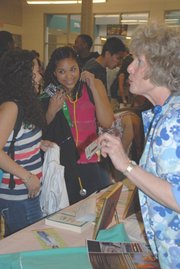 "The goal of this activity is to bring the real world into the building. It is also to show the students that, yes, you do have to study math and English and this is why. It is also to have them thinking about two years from now when they will be entering this world and making sure they know now what skills they will need," said Vandenburg.
The students participating in this career fair began thinking of potential careers years ago. "The push now is in kindergarten to really start talking about careers," said Davina Johnson, director of student services.
Despite this early push many South Lakes sophomores said they weren't really sure of what kind of career they are interested in pursuing.
Tyler Hutson, Tyler Chronister, Tyler Gallagher and Adam Gorgos checked out the table hosted by the Fairfax County Police Department. Officer Matthew Willert shared with the students information about the Police Department's Explorer Program which "works with youths 15 to 20 year olds to give them a glimpse of what law enforcement is like," said Willert. The boys listened attentively, then moved on saying they weren't really sure what kind of career they were interested in.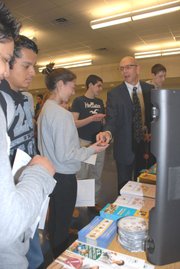 At a table hosted by Dominion Power, Sumiya Sharieff and Mahrukh Chowhan said they were "just exploring and looking at different careers."
Willis Twum, a designer for Dominion, said he and his co-representative, John Higbee, a serviceman, had been "getting a lot of interest, but mostly for him," said Twum, referring to Higbee. "He does all the cool stuff." Students who stopped by the table were sure to try on the heavy rubber gloves that linemen use when working on the electric lines.
At a table for Mitre, a cyber security company with offices in McLean, Brett Kreider had posted a chart with entry level salaries, mid-range salaries and top salaries, which exceed $100,000 per year. The numbers seemed to catch many students' eyes and groups of students stopped to talk with Kreider.
"Cyber security is a hot topic. I can tell them stories to get them interested, not to mention I posted potential salaries. If you work hard, you get rewarded for it in this field," said Kreider.
Logan Nasr summed up his classmates situation. "Most people don't really know what is out there. This shows them what is out there. They can see what skills are needed to get better jobs. Something interesting that I learned today is that 65 percent of jobs that we will be doing in the future don't exist today." Nasr suggested that the career fair was helpful, but is just the beginning of a potentially long and continually changing career search.