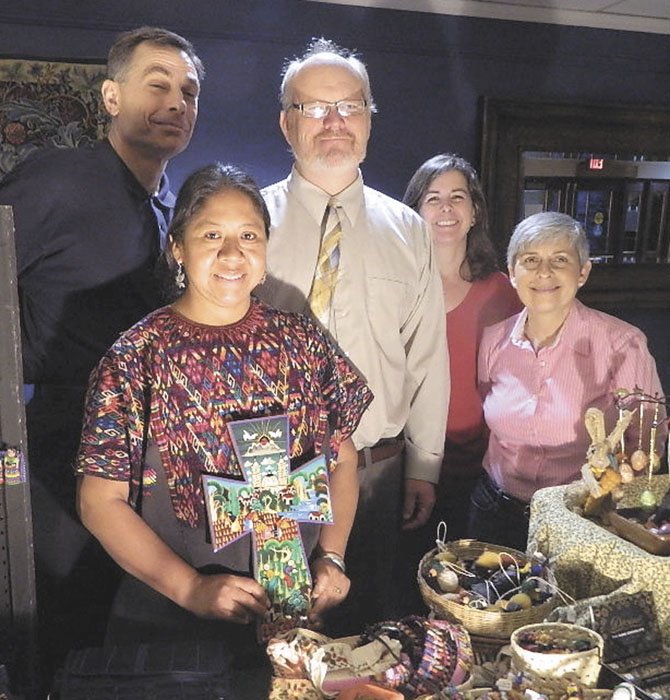 Mount Vernon — "The Land of Eternal Spring" is what Guatemalans call their country, and Aldersgate United Methodists doing mission work there return home to the States feeling renewed and blessed.
That is how Aldersgate congregation members Mark Gunggoll, Patty Kern and Carol Ricciardello described their experience when they sat down after Saturday evening's 5:30 worship service with Ben and Lupe Blevins, founders of the Highland Support Project, which combats poverty among Christian Mayans living in the Guatemala mountains. Visiting from Richmond where they make their home half the year, they also have a home in Quetzaltenango, Guatemala.
Guadelupe Ramirez Blevins, nicknamed Lupe, said Guatemala is called "The Land of Eternal Spring" because "if it's cold it's maybe 45, if it's hot it's maybe 65." Not only the weather benefits the Aldersgate Methodists but also the culture they encounter.
"A primary reason for organizing mission trips is the transformation of the donors who suffer spiritually in an over-materialistic society," said Ben Blevins, who met and married Lupe when he was a human rights observer in Guatemala in 1993.
Interacting with the Mayans with their strong sense of loyalty and support to extended family and generous hospitality to strangers despite their poverty shows "there's meaning and joy outside of materialism," he said.
Mission volunteers from Aldersgate have so far built about 475 stoves in poor Mayan homes and are returning this July to build a kitchen onto a school and in December to build a clinic and community center. They aim to empower the Mayans to overcome their poverty. Meanwhile, the Methodists benefit as well.
For Ricciardello, working in Guatemala in December gives her a break from the consumer madness of the Christmas season. "The reason I go in December is because it takes you out of the craziness of what's going on," she said.
Kern noted how impoverished Mayan children improvise their own happiness. She recalled being delayed with her mission partner and being caught up in an improvised game of soccer with two little boys for two hours. "I didn't understand a word they were saying. We were just laughing and having fun. It just touched my heart."
The boys called her and her friend "tio" and "tia," meaning uncle and aunt.
"In Guatemala," said Ben Blevins, "you have a real sense of family and community. When you come here [the U.S.] you can't help but sense the isolation, the alienation. When you're in Lupe's village with all her cousins and the extended family, no one's alone ever."
For Gunggoll, who heads up the mission work and handles all the travel details and organizing, it's a break from "driving the Beltway and sitting in an office." The mission work also builds up Aldersgate, involving the youth, he said, "who are the future of the church." He spoke of "building a nuclei of people who understand the importance of mission."
Said Ricciardello, "It affirmed for me that there are some really cool college kids out there."
"As the Mayans we say that everybody has to be together," said Lupe Blevins. "In the homes there's always a grandma and mother."
"That sense of community has come back with me," said Kern.
"Aldersgate is my family," said Lupe Blevins, beaming.