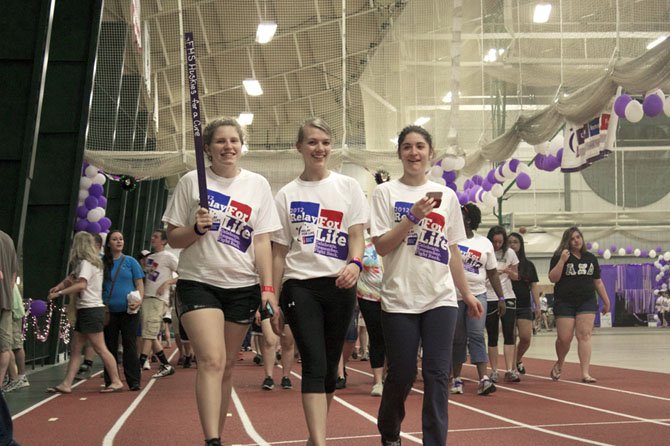 Thirty-one Flint Hill School (FHS) students, guided by Biology teacher Cyndi Hoffman and supported by four faculty members and an FHS parent, raised $7,745 as part of George Mason University's overnight "Relay for Life" event on Saturday, April 21, in support of the American Cancer Society. Their efforts earned them first place in fundraising for the program.
The group's commitment to participate began back in March when the team—"FHS Huskies for a Cure"—sponsored an in-school electronics drive, which not only supported the American Cancer Society but also encouraged environmental awareness by keeping these items out of landfills. They also held three very successful bake sale fundraisers and worked together as a team to make 100 handmade purple bracelets to sell at the Relay event.
On April 21, they joined teams from around the area on the GMU campus, where individual members immediately took a "Survivors Lap," an inspirational time to celebrate victories achieved over cancer. A 9 p.m. "Luminaria Ceremony" allowed participants to reflect on the lives of those lost and those fighting cancer.