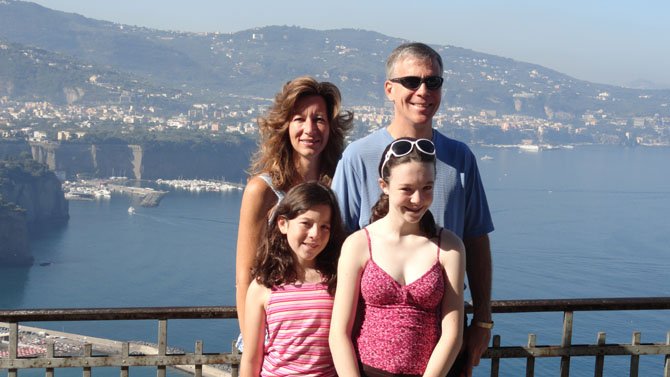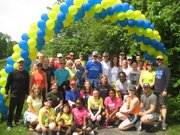 Centreville's John McKeown has never seen his children's faces and he always pictures his wife as being 28. That's because retinitis pigmentosa (RP) – a genetic condition causing degeneration of the retina and eventual vision loss – caused him to go blind.
But buoyed by recent advances in this field, he hopes there'll someday be a cure for him and others. And toward this end, he and his wife are co-chairing the seventh annual Northern Virginia VisionWalk, this Saturday, May 5. It's at the Lake Newport Swim Club at Brown's Chapel Park, 11601 Lake Newport Road in Reston. Registration is at 8:45 a.m.; the walk starts at 10 a.m. Or register or donate at www.VisionWalk.org.
This free, family-friendly, 5K walk-a-thon also includes children's activities, a moonbounce, refreshments and entertainment. Participants may form teams or walk independently, and dogs and strollers are welcome.
Hosted by the nonprofit Foundation Fighting Blindness, the event's goal is to raise $160,000 for cutting-edge research leading to the prevention, treatment and cure of all retinal-degenerative diseases. They currently affect more than 10 million Americans – people of all ages, races and ethnicities.
Since it began in 2006, VisionWalk has raised more than $20 million to fund sight-saving research, and McKeown, 50, of the Rocky Run community, is eager to do his part.
"I want to help out and raise awareness," he explained. "The developments and clinical trials in just the last 18 months are really breathtaking. A boy in Philadelphia was treated for a form of RP at age 9, and doctors were successful in reversing it bit – and that's never happened before. So there's a lot of excitement about that in the RP community, and the key is the funding for the research and clinical trials."
RP is hereditary, passed on through a recessive gene, and it first surfaced in McKeown's family when his older brother was 4 or 5. "He had trouble seeing at night and was then diagnosed," said McKeown. "Back then, there was no research going on for this. They just told my parents he was going to go blind. Today he's married and works in Denver for the Treasury Department."


THE SAME THING later happened to McKeown. "But fortunately, growing up, my vision was good enough that I could still read and keep my condition hidden from most people." At college, he had a hard time seeing the blackboard and it took him longer to do his work that it did other people. But he graduated from Virginia Tech with a degree in Mechanical Engineering.
He's worked for GTSI, a government contracting company, for 25 years. As a data architect, he turns data into usable information. He telecommutes a couple days a week and, the other days, his wife drives him to and from the office.
"GTSI's been very supportive and provided me with specialized, adaptive equipment," said McKeown. "I use software that's really cool and reads what's on the screen to me. So I can use the Internet and do what I need to do for my job; it's fabulous technology."
He and his wife Linda, a travel agent, married when he was 34. "She's an exceptional woman; I definitely married up," said McKeown. "She knew what she was getting into and still said yes." Two years later, he started not being able to recognize faces; and in November 1998, his RP had progressed to the point where he started using a white cane.
Still, the disease hasn't stopped him from living or enjoying his life to the fullest. "My parents always encouraged me to give things a try," he said. "RP is not my identity – it's just something I have." And despite it all, he considers himself fortunate. "I don't have ALS [Lou Gehrig's disease] or terminal cancer," said McKeown. "And I'm able to work at my job and provide for my family."
Now married 16 years, he and Linda are the parents of two daughters, Jenna, 13, an eighth-grader at Rocky Run Middle, and Anna, 10, a Bull Run Elementary fourth-grader. He's active in their lives and activities and, last summer, they vacationed in Europe together.
McKeown loves reading and listens to books via a digital download on a specialized player. He also plays guitar and piano. "I took lessons on both and have enough knowledge of music theory that I can hear what a song should sound like and figure out the keys," he said.
But he's far from a couch potato; in fact, he's pretty adventurous. He's ridden a snowmobile driven by Linda through Yellowstone National Park, skied in Colorado (with a guide) at the National Sports Center for the Disabled and engaged in dogfighting as a passenger in a combat plane. Since his condition prevents him from earning a private pilot's license, he instead wrote software simulating air traffic at Dulles International Airport.


AT LAST YEAR'S VISIONWALK, McKeown's wife surprised him for his 50th birthday by inviting his relatives and high-school and college friends from eight different states to participate along with their family. "About 50 people came," he said. "I'm so blessed."
This time, their $5K Challengers team hopes to raise $5,000. About 35 teams are participating at Reston; to donate to his team, go to www.fightingblindness.org/novavisionwalk.
"When one of my girls was little, I talked to someone on the phone and said, 'See you later,'" said McKeown. "She asked why I said that, and I said I didn't know. But in the past few years, I've really begun to believe there's a good chance in my lifetime that it may be true someday. I might go from 'See you later' to 'See you soon' to 'It's nice to see you.'"
"I've never let myself entertain that idea before," he continued. "But lately, with some of these breakthroughs, I'm allowing myself to dream. It's fun to see my kids catch that spirit, too. And maybe in a few years, I'll be able to see them."
But even if it doesn't come to pass, McKeown will still consider himself lucky. "Life's been good to me," he said. "My family and I are some of the most fortunate people I've ever met."
Agreeing, Linda calls her husband a great guy. "He's never let his vision get in the way of doing what he wants to do," she said. "He's always confident, and that's pretty much how we live our lives."
They also said yes when the Foundation asked them to co-chair the walk. "If we could make a small difference to make this year's walk a success, we wanted to do it," she said. She also said John's blindness is just a normal part of their lives.
"He makes people feel comfortable around him because he doesn't dwell on it," said Linda. "And they go out of their way to speak with him because they like him so much. He also tells me how beautiful I am, and he truly believes it and means it. I'm constantly amazed by John, and I think our children are more compassionate people because of him."
She said they've both learned a great deal through his condition. "You think how devastating it can be for parents to have their young child diagnosed with [RP]," said Linda. "But if we can show them what a normal life John has had, it can give them encouragement and a glimmer of hope for their child's future. You just have to believe in yourself and that there's a way to get through it."