Centreville — Dressed in the green outfit of a Fairfax County prisoner, Benjamin Luke Walker listened in court last week while others testified during his preliminary hearing. When they were done, Judge Michael Cassidy sent Walker back to jail and certified the murder case against him to the grand jury.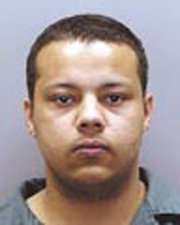 The victim was 22-year-old Ryah Leslie, who was killed Jan. 15 inside her townhouse in Centreville's Woodgate Manor community. And last Wednesday, April 25, in General District Court, three people took the witness stand and presented evidence pertaining to the crime.
The first was county Deputy Sheriff David Webb, who was working at the Adult Detention Center's pre-release center, Jan. 15, around 1 p.m. He pointed out Walker in court and said Walker had approached him that day and asked to speak with a police officer.
"I told him I was a deputy and could help him," said Webb. "He said he'd like to report a murder, and I handed him a pad to write down the address. I asked him if he knew who the murderer was, and his response was, 'I did the killing.'"
After having Webb identify that piece of paper, Chief Deputy Commonwealth's Attorney Casey Lingan introduced it into evidence. Webb also stated that Walker, 22, didn't have any visible injuries that he could see.
Under cross examination from defense attorney Crystal Meleen, Webb said he could smell alcohol on Walker's breath from about a foot away. "I asked him if he'd been drinking, and he said, 'The night before,'" said Webb. He noted that, after contacting his supervisor about the situation, he was advised to take Walker into custody, so he handcuffed him. Police later charged Walker with murder.
Leslie lived in the townhouse with three other roommates — her boyfriend, Travis Jordan, Walker and a man named Tristan Kennedy. Her bedroom was in the basement, and the others lived upstairs. In court, Jordan said he and Leslie dated and, after being shown the address Walker wrote on the note to the deputy, Jordan said it was their address.
He testified that, on Jan. 15, shortly after 3 a.m., Leslie "came into my room and into my bed, and it woke me up. She was drunk, and I asked her to go downstairs to her bedroom and she did. I only saw her for a minute or two." He said he then went back to sleep.
That was the last time he saw Leslie alive. That afternoon, between 1:20 p.m. and 1:30 p.m., said Jordan, "I got a phone call and a text message that led me to believe I should go check on her wellbeing. I opened her bedroom door and saw her sitting on the ground against the mattress."
He said Leslie had a big cut on her neck. "I placed my right hand on her right leg and realized she wasn't wearing any panties," said Jordan. "Her right hand was covered with blood. The reality of what happened hadn't hit me, yet, until I looked into her eyes and saw she was no longer with us."
Upset, he threw his cell phone and went into Kennedy's room upstairs and told him, and then Kennedy called the police. Jordan said Walker wasn't in the house and he hadn't seen him since the day before.
Police searched the townhouse that afternoon at 4:28 p.m. Among the items they seized were knives from the dishwasher, the basement and Walker's bedroom, plus a box cutter from his bedroom.
County police homicide Det. Rich Mullins, the lead detective in the murder investigation, testified last. He said he attended Leslie's autopsy, performed by Dr. Shane Chittenden, and then Lingan entered the coroner's autopsy report into evidence.
After that, Judge Cassidy found probable cause that Walker committed the crime of which he's accused and certified his case to the next grand jury for possible indictment.